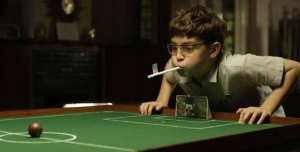 SIXTY SIX
Running time 93 minutes
Written by Peter Straughan and Bridget O'Connor
Directed by Paul Weiland
Starring Greg Sulkin, Eddie Marsan, Helena Bonham Carter, Ben Newton
Paul Weiland's Sixty Six, from a screenplay by Peter Straughan and Bridget O'Connor, based on a story by Mr. Weiland, reminds me of a Brazilian film I saw not so long ago. That film climaxed with Brazil's victory in the World Cup competition just as Sixty Six commemorates the year that England won the coveted international soccer title. I must say that the Brazilian movie on the subject had a more interesting political subtext than Sixty Six, which has been subtitled in the production notes as A True…ish Story, and is reportedly patterned after Mr. Weiland's real-life story, which he related to guests at his 50th birthday party. It seems that Mr. Weiland endured the misfortune of having his bar mitzvah scheduled on the same day as England's playing West Germany in the World Cup final. Naturally, hardly anyone came to Mr. Weiland's bar mitzvah, which made it a big flop. Mr. Weiland describes the aftermath of his speech: "The reaction to my telling the story of my 13th birthday was not only a validation of that vulnerable time but also indicated that the story would strike a universal chord."
Since Mr. Weiland himself had grown up in a Jewish section of North London, he was able to include many details of his own childhood. Mr. Weiland recruited an old friend, celebrated comedy writer Richard Curtis, to help him write a treatment of his experiences. They then turned over the treatment to screenwriters Peter Straughan and Bridget O'Connor while Mr. Curtis stayed on the project as executive producer.
Bernie (Greg Sulkin) is eagerly awaiting the day of his 13th birthday, the date of his bar mitzvah, when he supposedly becomes a man, and can stand on the same footing as his annoying older brother, Alvie (Ben Newton), whose own bar mitzvah was a moderate success, but nothing like the well-attended gift bonanza Bernie has envisioned for himself.
Unfortunately, several storms begin looming on Bernie's rainbowish horizon. First, his father Manny (Eddie Marsan) sees a giant supermarket opening opposite his neighborhood grocery store. Manny begins worrying about the future of the business he shares with his brother, Jimmy (Peter Serafinowicz). Manny is a comically hyper-cautious character even without his business troubles. He always double- and triple-checks the locks on his car, and to his apartment. Distrustful of banks, he keeps all his money literally in a hole in the wall.
Bernie's mother, Esther (Helena Bonham Carter), is too busy worrying about her troubled husband to pay much attention to Bernie and his bar mitzvah. She pooh-poohs his worries about England ever reaching the final of the World Cup and thus blighting Bernie's day of days, a view widely shared by the country's sports experts. Bernie's only allies in his forlorn quest are Dr. Barrie (Stephen Rea), a specialist called in to treat Bernie's asthma, and blind Rabbi Linov (Richard Katz), instructing Bernie in the Torah for his great day.
When a small fire in the apartment burns all of the family's life savings, and Uncle Jimmy is hospitalized after a fall from a ladder, all seems lost. But not to worry. Everything ends ecstatically for England, Bernie, Manny, Esther and Jimmy. Even so, I can't say that I understand soccer any better than I ever have in my provincial addiction to American baseball, football and basketball. But who am I to cross the rest of the world both on and off the screen? And despite Basil Radford and Naunton Wayne in their glory days in Alfred Hitchcock's 1938 The Lady Vanishes, I understand cricket even less.
asarris@observer.com