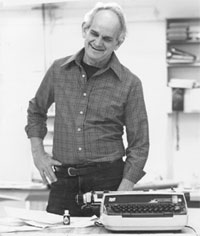 Manny Farber, the idiosyncratic painter and film critic for The New Republic, The Nation, ArtForum and other publications, has died. He was 91.
According to The Times' William Grimes, Mr. Farber was "a quirky prose stylist with a barbed lance, responded to film viscerally. He despised what he called the 'art-infected' films of cinematic greats like Welles and Alfred Hitchcock — 'the water-buffaloes of film art,' he once called them — preferring the work of genre directors like Anthony Mann, Raoul Walsh and William A. Wellman, who transformed pulp material and genre conventions into 'private runways to the truth.'"
The Village Voice's J. Hoberman wrote:
Farber wasn't like other critics. He didn't proselytize and he didn't create systems. Rather, he articulated his idiosyncratic perception, which is to say: He had a sensibility. Farber was as punchy and hardboiled, at least in his prose, as Sam Fuller (a director he admired) and as masterful a vernacular stylist as S. J. Perelman (who, knowledgeable as he was, nodded to Farber in one of his pieces). As was said of Perelman, before they made Manny they broke the mold.
An anthology of Mr. Farber's film criticism called Negative Space was praised by Franklin Bruno in the December 2004/January 2005 issue of The Believer. In 2006, Mr. Farber (who hadn't published a piece of film criticism since 1977) was gently mocked by director M. Night Shyamalan, who named an uptight critic character played by Bob Balaban "Harry Farber" in his flop The Lady in the Water.