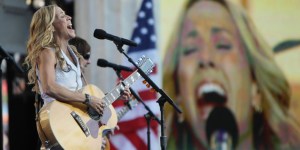 Ever since the Obama campaign announced that Barack Obama would be giving his acceptance speech of the Democratic nomination inside Invesco Field at Mile High—the enormous stadium where the Denver Broncos play football—critics and supporters alike have wondered whether the spectacle played too readily into the "Obama as celebrity" storyline that the McCain campaign has pushed so hard.
Already will.i.am, Sheryl Crow and other recording artists have performed live. The smooth female voice announcing the political speakers and performing artists is identical to the one that introduces actors at the Academy Awards.
But whatever the risks, there is at least one guaranteed upside to gathering such a big captive audience which was revealed by Ray Rivera, the chair of the Obama campaign in Colorado. He came on stage and asked everyone to send a text message to the Obama campaign and introduced a map, displayed on the stadium's jumbo screen, that would reflect the quantity of those messages with blinking dots. He said that Denver could have a "home field advantage" if they started sending texts now.
The Obama campaign is all about organization. And the phone numbers sent to the campaign in those texts will be stored as data to be used for door knocking, getting out the vote, and all sorts of nationwide grassroots organizing in what the campaign likes to characterize as a seamless transition from virtual to actual organizing.
All of which is to say, the bigger venue, whatever its risks in imagery, pose an organization advantage to the campaign.