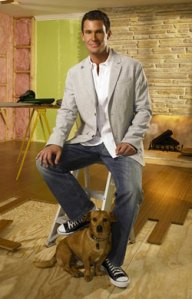 It's kind of hard not to hate Jeff Lewis, the star of Flipping Out, when you see him in action on his hit Bravo reality show about rich people who buy expensive California homes, fix them up, and sell them for more money to even richer people. He's smug. Obnoxious. Often rude to his staff. Neurotic in the sort of way that actually makes neurotic people cringe. Which is why we now sort of hate ourselves for thinking that maybe, just maybe, Mr. Lewis isn't such a terrible guy after all.
On a recent Bravo special that recapped season two of Flipping Out, the 38-year-old real estate investor joked about the hideous portrait of his devoted housekeeper, Zoila Chavez, that he'd commissioned for her as a birthday present. Ms. Chavez, it seems, hated the painting, which isn't surprising considering it sort of made her look like a beast. So Mr. Lewis, gracious boss that he is (from the same special: he apparently wouldn't approve the new uniform Ms. Chavez had been begging him for unless she filled out a formal request to his assistant), told her that she could sell it.
And sell it she did!—for a whopping $10,050, The New York Times reports of the online Bravo auction that closed last night. The proceeds will go to Ms. Chavez, who is of Nicaraguan descent and still has relatives in her home country
"If it was a painting of me, I don't know if there would be any bids, to be honest," Mr. Lewis told The Times. "She's always sending money home or my clothes that I'm done using. She does a lot for her family and this will enable her to do even more."
Jeff Lewis: Worst guy ever? Or heartwarming philanthropist? You be the judge.