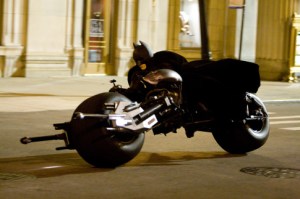 Who would look best in a black rubber suit? The candidates will have to duke it out after Entertainment Weekly asked both John McCain and Barack Obama about their pop culture favorites. No surprise that they'd want to take a spin on the Bat bike…
McCain:
He does justice sometimes against insurmountable odds. And he doesn't make his good works known to a lot of people, so a lot of people think he's just a rich playboy.
Obama:
I was always into the Spider-Man/Batman model. The guys who have too many powers, like Superman, that always made me think they weren't really earning their superhero status. It's a little too easy. Whereas Spider-Man and Batman, they have some inner turmoil. They get knocked around a little bit.
Also, McCain admits that the last movie he had a good cry to was (wait for it) Bambi. Us too. Well, My Girl, and Bambi too. He also digs Usher, although we don't even want to think of him putting on "Love In This Club" to get Cindy in the mood.
Obama is into Sheryl Crow and Javanese flute music. The last movie he saw in the theater was Skrek 3 (!) and the last video game he played was Pong. Somebody get this man to an I-MAX!