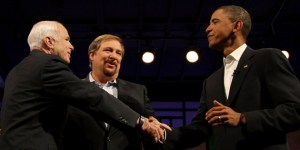 There's really no other way to put it: John McCain stole the show at the Saddleback church.
He was quick, confident, and often funny, even if most of his seemingly off-the-cuff quips are staples of his stump speech. He connected effortlessly with the live church audience, to judge from their loud and sustained ovations, and evidently with the media, which has largely pronounced the event a win for Sen. McCain.
To considerable effect, McCain also mixed heavy doses of patriotic and religious themes, twice invoking, in some detail, his experience as a prisoner in Vietnam. The crowd ate it up.
Barack Obama, by contrast, was treated politely by the crowd, but not much better than that. His answers to moderator Rick Warren's questions were long, nuanced, and mostly humorless, and he sounded like a man very much aware that any poorly phrased thought could haunt him for the rest of the campaign. He treaded cautiously and made few emphatic points.
"One thing that I am convinced of is that there is a moral and ethical dimension to [abortion]," he told the crowd at one point.
Of course, it's an open question how many swing voters tuned in or will even hear much about Saturday's proceedings.
The forum, which featured separate one-hour interviews with the candidates, aired live on CNN and MSNBC, but on a Saturday night in the middle of the summer, most voters were probably preoccupied – especially with Michael Phelps preparing to go for his eighth gold medal over on NBC.
That the forum was specifically geared toward evangelical voters further thinned the audience. The image of McCain and Obama meeting briefly onstage between their grillings, the image that made the papers, is all that most swing voters will take from Saturday night.
And that's a very good thing for Obama, because those who watched the full two hours probably took note of the exact contrast that the McCain campaign is frantically pushing. McCain was direct, forceful and confident – a man with a very clear and unwavering sense of what he believes and what he's prepared to do pursue those beliefs. Obama was none of these things. The McCain campaign's game is to paint their man as a battle-tested warrior-patriot and Obama as a nice enough naïf who has only fuzzy notions of what he wants to do as president and who'd be passively uncertain in a crisis. And that's about what viewers saw on Saturday night.
In fairness to Obama, this can be partly attributed to the setting and the nature of the questions. Warren is far more moderate than most peoples' knee-jerk assumptions might lead them to believe, but he is still the leader of a massive evangelical community and evangelicals are still almost three times as likely to favor McCain. Naturally, then, Obama was on the defensive more than McCain, particularly when the conversation turned to abortion and gay rights (Warren asked the same questions to both candidates – although McCain got some extras, since his answers were so short).
But even taking this into account, Obama's and McCain's performances did show how a basic difference in their intellectual approach can – at least potentially – have significant implications this fall. Obama is a thinker, a highly educated and well-read man whose intellectual prowess makes him resistant to sweeping, absolute statements. McCain is the opposite. He's plenty smart, but not in a bookish way, and he sees almost every question – particularly on foreign policy – in simple terms of good vs. evil.
Nowhere was this difference more clear than when Warren asked both candidates if there is such a thing as evil – and, if so, what our response to it should be. Obama took this as a more basic question about human nature, noting that evil exists on some of America's city streets and in the hearts of those who abuse children. When he connected it to foreign policy, he did so with a note of caution.
"Just because we think our intentions are good doesn't mean we're always going to be doing good," he said.
McCain's answer didn't come until about an hour later, but you knew long before he took the stage how he'd handle it.
"Defeat it," was all he said when Warren put the same question to him. Then he went on to talk of a global conflict between good – i.e., the United States – and evil – i.e. "radical Islamic extremism." Iraq, McCain said, is the central front in that battle, but it's being fought elsewhere, with Al Qaeda looking to spread its influence. He also made sure to reiterate his old line about following Osama bin Laden "to the gates of hell."
Obama's response was more thoughtful and more reasonable, but the shear heat and single-minded intensity of McCain's is better politics.
McCain flashed the same instincts when the conversation turned toward the Russia-Georgia conflict, with Warren raising the possibility (apparently relying on an assumption of Russian "evil") of genocide in Georgia. McCain took that as an opportunity to paint a picture of Georgia as a brave and innocent little democracy being victimized by Big Bad Russia – no mention of the crackdown implemented by Georgia's president last fall, or of Georgia's attempt to use military force to assert its dominance over a region (South Ossetia) that wants nothing to do with it. There is no room in McCain black-and-white world vision for these kinds of gray areas. But the good news for him is that the same is true for most Americans. That makes McCain's use of hawkish, good-vs.-evil rhetoric theatrically effective, while Obama's resistance can come across as weakness.
Fortunately for Obama, there probably won't be any more forums like Saturday's, since the three fall debates will be more formal and structured. The conversational nature of the Saddleback forum was perfectly suited for McCain's style, and the best elements of his personality were easy to spot. In debates, he's a different man, much more stiff and subdued. Obama isn't particularly good in debates, either – but, for him, at least the contrast with McCain won't be nearly as jarring this fall as it was on Saturday night.