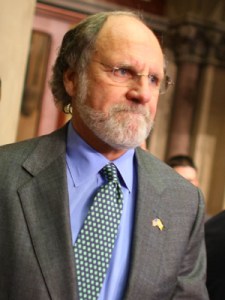 A few months ago, after Times reporter David Chen left the Trenton bureau for New York's City Hall, and The Times decided against sending a replacement, New Jersey Governor Jon Corzine decided to meet with Times publisher Arthur Sulzberger Jr. at the paper's skyscraper on Eighth Avenue.
"I wanted to register a sense of serious disappointment that we weren't seeing the kind of coverage that I think would be good for The New York Times' distribution as well as, certainly, the public," said Governor Corzine in a phone interview with Media Mob.
Essentially, Mr. Sulzberger relayed this message back, according to Gov. Corzine. "They have tough choices to make because it's a tough time for media in general. They had to make choices they otherwise wouldn't have wanted to make."
"I think it may feel good in the short run," Governor Corzine said, "but I think in the long run it'll be detrimental."
Since the early summer, The Times has emptied everyone out of their Newark and Trenton bureaus. Coverage has been reduced to spot news and trend stories.
"I'm a pretty avid newspaper reader, and when you see the Metro Section of The New York Times shrink, with the number of pages and the width of pages and the infrequency of coverage and a great reporter like David Chen pulled out of the participation from the public dialogue, you know the world is changing.
"You're watching it shrink!" he continued. "You're watching in front of your very eyes."
There are 18 daily newspapers that are members of the New Jersey Press Association, a trade organization. All that competition is killing the news industry in-state, according to Mr. Corzine. During the summer, the Star-Ledger announced it would cut about 100 from its newsroom–about a third of the size of the newsroom–and the Record of Bergen County announced it was shutting down its main newsroom, leaving its reporters out on the streets, filing from laptops in their cars. Meanwhile, a number of Gannett papers have already cut 100-plus newsroom positions from a series of its smaller papers in the state.
"I think [the problem] is a reflection of a historic failed strategy that no one ever built a statewide franchise," he said. "As a consequence, it doesn't have a big enough market to actually sustain itself on a broad basis."
He said he can't really do anything about it other than with "moral suasion," and so far no one has expressed any interest in either (a) saving a franchise like the Ledger or (b) starting a new one.
"I do believe that the fragmentation ends up hurting, and it's costly," he concluded.