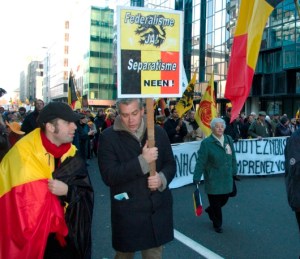 Thomas Degeest's Wafels & Dinges truck might just be the perfect metaphor for Belgium. Painted in the country's colors — red, yellow and black — the truck sells Belgian waffles at several Manhattan locations. It looks patriotic. It flies a Belgian flag out its back window.
But then there's that name.
"Every time we get Belgians [ordering] we get, 'Whoa, what a crazy name,' because it's really Flemish slang that we've got on the truck," Mr. Degeest said.
"Wafel" is spelled the Flemish way. "Dinges" (pronounced ding-us) is Flemish slang for "stuff." And the "liege cinnamon royal" waffle is served how King Albert II likes to eat them: "on a silver plate while serenaded by Flemish virgins."
For Mr. Degeest, the cinnamon royal "symbolizes the way that the Flemish are supporting the rest of the French-speaking community" in Belgium, a sentiment shared by many of his compatriots in the north of the country, as media outlets have reported.
But for Belgians living in New York, the political crisis that threatens to split Belgium in two — and that for nine months left their country without a prime minister — is "ridiculous," "childish" and even "stupid."
At issue is the linguistic and economic autonomy of Belgium's two main factions: the less affluent south, home to the French-speaking Walloons; and the Flemings in the north, who support their southern neighbors with subsidies and who speak a language more akin to Dutch. In the last few years, politicians representing the 58 percent of the country that speaks Flemish have pushed for language reforms and greater regional independence.
The dispute has created political deadlock. After the June 2007 federal election, Belgium went without a prime minister until March 20, 2008, when Yves Leterme, the election's winner, formed a coalition government. Only four months later, he tendered his resignation, a move which King Albert declined to ratify.
"In Belgium, they quickly become attached to one or another territory," said Renilde Loeckx-Drozdiak, Belgium's Consul General in New York. "They are then surrounded by the publicity of being either a Fleming or a Walloon. And [in New York] they do not have this feeling at all, or much less — I'm sure they still have a cultural identity — but they feel they are Belgians."
ACCORDING TO THE 2000 U.S. Census, there are 3,426 Belgians living in New York City. The consulate does not keep statistics on how many are Flemish or Walloon.
Although Belgians in New York monitor the news from their homeland, the ethnic tensions that have inflamed some of their peers have not crossed the Atlantic. Part of the reason for this is that many Belgian expatriates, surrounded by Americans, suddenly discover a common experience in living abroad.
"It's true that when we discuss the matter, we can be passionate about it," said Carlos, a 40-year-old Francophone banker living in Westchester. "But I don't have any animosity [toward Flemish speakers], certainly not."
Carlos has lived in New York for a year and a half but declined to give his last name, since he has family members in Belgium who are politically active.
"If I was living in Belgium, that could be different," he added. "But here, no. Here, we're from the same country."
On July 21, Belgians celebrated their National Day at Petite Abeille on East 20th Street, an event that drew 1,000 attendees by one estimate. The host conducted the entire program in three languages.
"You wonder why it does not happen in Belgium," said Yves Jadot, one of the organizers and the restaurant's owner. "If we can make it in New York, we can make it anywhere," he joked.
Mr. Jadot grew up in Brussels, which has a French-speaking majority but is located in Flanders in the Flemish north. He arrived in New York in 1986, at the age of 18, with $100 in his pocket. Four years later, he opened the first location of Petite Abeille on 18th Street between Sixth and Seventh avenues. The Belgian restaurant now has four locations.
"One thing we share across the entire country is the food," he said. "That's one thing I never understood. I don't know how we manage to get such good food."
Yet, even though Belgian New Yorkers would no doubt uniformly champion their moules frites, Trappist ales, and those delicious waffles, not all of them would call their community united.
"When we look at what is happening in Belgium right now," said Mr. Degeest, the owner of Wafels & Dinges, "we look at it as sort of a provincial fight that's removed from our community in New York. But I still see Flemish people sticking with Flemish people."
Mr. Degeest said that he does not know many Francophones; rather, the discrete social networks of Flemings and Walloons extend to their ex-pat lives. At the National Day celebration, for example, he observed many more French speakers than Flemish. He also noted that on July 11, Flemings celebrated their own holiday. And both have separate ex-pat organizations: Flemings in the World (for the Flemish) and Union Francophones des Belges à l'étranger (for the Walloons).
"If I look at my Walloon friends in New York," said Mr. Degeest, "they don't speak Flemish. A few of them do, but quite a few of them do not. On the other hand, pretty much every Fleming speaks French."
"Even in New York we're kind of secluded," said Chris Vaes, who works in sales. Mr. Vaes, 29, grew up in Antwerp in the Flemish north; he attended school in Dutch but spoke French at home. "It's just when you're hanging out with your friends, you want to be able to speak the same language," he said. "It's much easier to hang out with French-speaking people."
Although both Mr. Vaes and Mr. Degeest insist there is no animosity between the groups in the city, they say the two remain separate.
IF THERE IS ANY such thing as a "Belgian community" in New York, it would exist in the meatpacking district, circa the late 1990s.
Mr. Jadot opened his third Petite Abeille location at 14th Street and Ninth Avenue; another Belgian restaurant, Markt, opened across the street; and the Brussels-born designer Diane Von Furstenberg moved in nearby.
But Markt is now in Chelsea, and its owners are back home "opening new restaurants," as the host informed me. The owner of Cafe de Bruxelles, another Belgian institution near the meatpacking district, has left the business to his French partner. And neither one had a Belgian patron in the seats.
For some New York Belgians, however, the nation itself is an unrealistic idea: "a country that was never supposed to be a country"; "a buffer zone between three great powers"; or "an accident of history." Others compare it to Israel and Palestine, another territory divided up by outsiders.
And then there's Brussels, the "Jerusalem of Belgium," as one native characterized it. The capital of the European Union, Brussels is technically bilingual, geographically Flemish but dominated by Francophones. It is such a potent symbol for Belgians that Yves Michiels, the owner of BXL Cafe, named his midtown restaurant after the city, choosing a name that was neither Flemish nor French.
For Belgian New Yorkers, some of whom grew up there, Brussels is a representation of what the United States, and especially New York, offers its residents: a mix of ethnicities, languages, backgrounds and identities.
"It is a little stupid to have a country as small as Belgium dividing into two pieces, fighting with each other," said Carlos, the banker, "where you see a country here that has so many communities that can go along with one another … and seems to be workable."