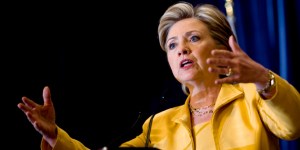 DENVER—Bill Perkins, one of the first New York elected officials to endorse Barack Obama, jumped out of his seat and let out an ear-piercing whistle as Hillary Clinton addressed party unity in a speech to the New York delegation this morning.
"I think she hit a home run," he said when I asked him about the speech later; he also called it "a transformational expression of support." Perkins went on, "If that enthusiasm continues, then it's done and she gets credit for moving [her supporters] into the victory column."
Representative Charlie Rangel, who gave a fist-bump to Chuck Schumer after giving his own address, called Clinton's speech "fantastic."
"I think she was very supportive of Barack Obama," said superdelegate Ralph Dawson, who did not publicly declare his support for either candidate during the primary.
After the speech, it was still unclear what Clinton wants her delegates to do during a roll call vote later in the week.
She is "acting like the elder statesmen of the party," said Representative Eliot Engel, who also said it's too early to discuss the roll call vote.
Representative Greg Meeks of Queens, who supported Clinton, said Clinton's name being placed in nomination will "make sure the significance of her historic primary is not lost." When asked, he said he would be voting for Obama.
"This is bigger than Clinton," said Representative Nydia Velazquez. "This is bigger than Obama."