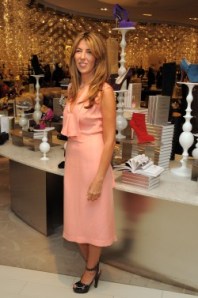 On the afternoon of Wednesday, August 27, the Daily Transom headed to Saks Fifth Avenue to get some face time with Project Runway judge and soon-to-be Marie Claire fashion director Nina Garcia, who was there to promote her new book, The One Hundred: A Guide to the Pieces Every Stylish Woman Must Own.
The detailed instructions—take the elevator to the fifth floor, walk the path between Theory and Diane von Furstenberg, get to an area called Studio Services, find the first door on the right to the VIP room—were already making us giddy with the grandeur of it all.
When we finally got to this secret room, Ms. Garcia sat carefully poised on a cream colored couch in a petal pink dress that fell right below the knee, and studded black heels.
"I am not proposing that all women should own all of the 100 peices in the book," she said. "We're all fashion chameleons and one day you may want to look bohemian and hippie, and the next you have to wear something classy to work. The book is about keeping all of these personalities in mind."
Ms. Garcia looked so delicate and welcoming—and so freakin' nice!—that we almost didn't want to ask her anything about all that messy Project Runway business. But then we did anyway.
We wondered how Ninotchka felt about relocating to Los Angeles for part of the sixth season. (According to Ms. Garcia, she and the rest of the judges are departing for L.A. at the end of September.) While she doesn't mind a temporary relocation, Ms. Garcia said that she would not like to move there.
"Never say never, but no!" said Ms. Garcia, a little startled by the proposition. "I am more of a New Yorker. I don't think I'll be moving to L.A.–I mean I hope not–but I like to spend some time there.
"I look forward to the beautiful weather, but not so much the driving or sitting in cars part of it," she added.
And what about the alleged rivalry that now exists between her and fashion news director of Elle magazine Anne Slowey, who will be starring on the CW's reality show Stylista come fall?
"I think it's been way over-hyped. It's unfortunate, but it is what it is," she said, moving her brow in a way that displayed genuine concern. (Also, that she does not regularly indulge in Botox!) "I don't think there's any news behind it and yet it happens every day. It makes me very uncomfortable."
She paused. Then smiled again. And then, "Unfortunately I'm in the midst of it. But at this point I have no control over it. It is what it is."
Naturally we had to ask what she thought of Stylista.
"I don't think it's like Project Runway at all," she said, perhaps trying to dissolve the impression of a competition. "Project Runway is about the design process. The talent is very tangible in terms of you being able to see it in the contestants. I haven't seen Stylista so I can't really comment on it, but it doesn't strike me that it would be so tangible."
So nay to watching it?
"If I have the time."