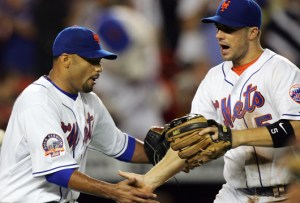 The struggles of the Mets' bullpen in the season's second half astounding even by comparison to the very worst teams in recent memory. Following Sunday's 6-4 loss to Houston, in which the bullpen gave away a 4-3 seventh-inning lead, New York's bullpen ERA since the break is 5.89. To put this in perspective, no National League team has a higher full-season ERA than Pittsburgh, at 4.44.
The bullpen is awful by the standards of the very worst teams in Mets history. Only once in New York's existence has the team posted a half-season bullpen ERA over 5—in New York's very first year, the Mets had a bullpen ERA of 5.03 in the second half of a 40-120 season. The 1962 Mets, of course, had the most losses in baseball history. The 2008 Mets bullpen, in the second half, has been nearly a run worse.
But what is more amazing still is not that the Mets' bullpen has been so terrible—it is that during that period of time, the Mets have a 21-15 record, and taken over first place in the National League East. There is no recent historical precedent for a team's bullpen pitching so badly while that team makes a playoff run.
Take a look at the 2007 playoff teams—of the four National League bullpens, none had a higher half-season ERA than Philadelphia, whose bullpen posted a 4.85 ERA in the first half. But the Phillies had a 44-44 record over that time—it was the 45-29 second half that helped the team to a division title (with New York's assistance). Even the Rockies, during a first half with a 44-44 record, put up a 4.47 ERA. And both Philadelphia and Colorado play in hitter-friendly parks, unlike pitcher-friendly Shea.
Even in the DH-assisted American League, only the Yankees had a half-season bullpen ERA of 5.00 among playoff teams—still nearly a run better than the Mets relievers since the All Star break. The Yankees had to overcome this deficit by scoring more than 6.6 runs per game following the break—over a full season, their pace would have been good for 1,074 runs—the highest run total of any offense since 1900. The Mets, by contrast, are averaging just under five runs per game since the break.
Even the 2007 Mets, who famously experienced one of the biggest collapses in baseball history, didn't manage a single month—September included—with a bullpen ERA within a run of the team's 2008 second-half mark. New York peaked at 4.89 during August, and during a September collapse that featured bullpen meltdowns aplenty, the Mets had a bullpen ERA of 4.63.
And even when the comparison is with teams that feature 2008's worst bullpens, DH or no DH, New York's futility rises above the rest. Cleveland has the worst bullpen in the league by ERA—the second-half ERA of Cleveland's relievers is 5.44—still, nearly a half-run better than the Mets over that time. Only Atlanta has a second-half bullpen ERA worse than New York's mark. The Braves are at 7.19 in relief ERA since the break—and have a 12-23 record to show for it.
But plenty of teams have bad bullpens every year. What the Mets would accomplish, should they win the 89 games they are on pace for (which would likely earn them a playoff spot) would be to overcome that weakness to make the playoffs. And that has not happened for quite some time.
Among National League teams, the last time any playoff team had a half-season bullpen ERA of greater than 5.00 was the 2005 Atlanta Braves, who won 90 games despite a second-half bullpen ERA of 5.03. (That's still nearly a run better than New York's second-half 2008 pace.)
Only two other National League playoff teams since the three-division format expanded the playoffs in 1995 reached a 5 ERA in a single half-season—the 2000 San Francisco Giants, who posted a 5.34 ERA in the first half, then rode a 51-26 second half into October, and the 1997 Marlins, whose bullpen ERA nearly doubled from 2.83 in the first half to 5.27 in the second half, but whose starting pitching carried them into the playoffs, and ultimately, the championship.
Those 1997 Marlins were an exception, and what they achieved provides a faint ray of hope for the Mets' chances. (None of the other postseason teams won a single October series.) The Marlins had a good offense to go along with a maddeningly inconsistent bullpen. But Florida's starting pitching was terrific, with Kevin Brown providing a Cy Young-caliber season, veteran Alex Fernandez and phenom Livan Hernandez both well above average, and Al Leiter shaking off a terrible first half to pitch well in the second half.
New York has a better offense than Florida's 1997 team. And Johan Santana, Oliver Perez, Mike Pelfrey and Pedro Martinez have provided a worthy match for Florida's top four starters.
But they'll all have to continue to perform at least as well as they have until this point, or this historically bad bullpen will sink the Mets, and soon.