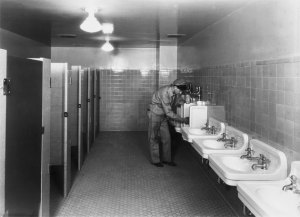 The editors and assistants of Farrar, Straus and Giroux received an upsetting e-mail yesterday morning from the venerable publishing house's director of operations informing them that the water in their building on 18th Street was being shut off until the following day. The building manager had reported "unanticipated problems," but a promise was made that they would be resolved very soon.
In the meantime, anyone who needed to use the restroom would have to go downstairs to the Cupcake Cafe, a small operation housed inside the Books of Wonder children's bookstore. This went on until around 4 PM today when the water came back on.
"I have the smallest bladder, I guarantee you, of anyone in this office and possibly in this whole industry, so as you can imagine I've been hording pee like a camel all day," said one frustrated staffer this afternoon, mere minutes before the water was restored.
Immediately afterwards, editor-in-chief Eric Chinski said that water problems were not exactly uncharted territory for his staff. Back at the old offices on Union Square (they moved into a new space in February), there was no hot water—ever—because FSG's late founder Roger Straus did not want to pay for a water heater.