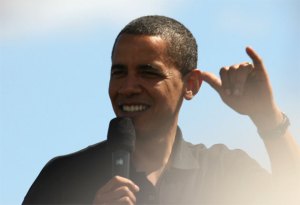 The AP's Hillel Italie reports this morning that Three Rivers Press, the imprint of Random House's Crown division that published both of Barack Obama's books, is working with the presumptive Democratic nominee's campaign on a policy book called Change We Can Believe In: Barack Obama's Plan to Renew America's Promise. The book, which has a bold first print run of 300,000, will be divided into sections on issues like "health care, energy and national security," and features transcripts of seven of Obama's most celebrated speeches.
The meat of the book is being written by people from the campaign, but Obama himself is contributing a several-page foreword.
According to Robert Barnett, who represents Obama to publishers, the contract for Change is between Crown and the campaign, not Obama himself. The AP notes that it is "not part of the senator's current deal with Crown, which calls for him to write two more books, including a children's book."
The Politico's Mike Allen notes that the "secret project—both a collectible, and an answer to questions about his substance—was launched just a month ago, and got to the printer with no leaks."