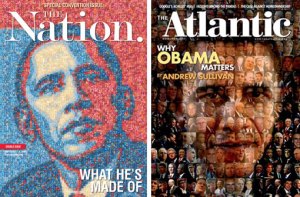 The September 1/8, 2008 "Special Convention Issue" of The Nation features a striking cover of Barack Obama as a mosaic composed of hundreds of smaller images of other people, suggesting that Senator Obama, the presumptive Democratic nominee for president, doesn't just stand for himself: He is all of us united. The cover line says it all: "What He's Made Of." (Like Soylent Green, he's made out of people.)
But the image, credited to "Gene Case & Stephen Bling/Avenging Angel From a Poster by Shepard Fairey, Illustrations by Christopher Serra," is also striking for its similarity to the cover of The Atlantic from December 2007, which also featured Senator Obama as the sum of many, many parts. In the case of The Atlantic, the tiles were images of partisans like Howard Dean, Karl Rove, Michael Moore, and Ann Coulter, meant to illustrate writer Andrew Sullivan's thesis that Senator Obama represents a break from the nastiness and divisiveness of our political culture in the Clinton and Bush years.
Of course, neither magazine was the first to create a cover using such an effect. Wired did it with the face of Media Lab founder Nicholas Negroponte back in November 1995 as did The Nation itself with George Bush on its "Why We Must Leave Iraq" cover from September 24, 2007.