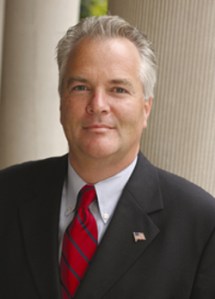 Many city Democrats are heading out to Denver in the next few days, but not Mike McMahon.
A spokesman for the councilman from Staten Island, who is the party and New York Times-backed candidate in the 13th District Congressional race, said he'll be campaigning in the district instead.
McMahon's chances in the race look good–he's leading primary opponent Steve Harrison by a huge margin (64-18 percent) and neither of the Republican candidates for the open seat are particularly promising.
In a contrasting example, Representative Ed Towns, who is also facing a challenger, is very much going, as part of an ongoing effort to associate himself publicly with Barack Obama after having endorsed Hillary Clinton.
So why isn't McMahon going?
It may be because in the 13th Congressional District, which technically has more Democratic than Republican voters, Obama lost to Hillary Clinton overwhelmingly. It's also the last district within New York City to be represented by a Republican (Representative Vito Fossella, who is not running again).
In June, right after McMahon was endorsed by the Democratic Congressional Campaign Committee, and shortly after the presidential primary was settled, I asked McMahon if he had endorsed Obama, since he had not attended a June 6 press conference in the city where a number Clinton supporters announced support for Obama.
"I was a Hillary Clinton supporter," he told me. "I certainly will endorse Barack Obama. Haven't done it yet, officially. But I've always said we have to unite behind the nominee. I certainly expect to do an event in the next few weeks."
McMahon's campaign strategist, Evan Stavisky, said McMahon has now endorsed Obama and that the councilman is not going to the convention only because the McMahon needs to focus on his own contest.
"Mike McMahon is committed to winning the seat back for the Democrats after 28 years," he said, adding that McMahon "takes that responsibility seriously." Stavisky said he's grateful the National Journal and the Washington Post think Democrats can win the district, but said, "We're not focusing on that. He's spending his time speaking to voters."
Stavisky strongly denied that McMahon is distancing himself from Obama. "They're running on a slate together," he said.