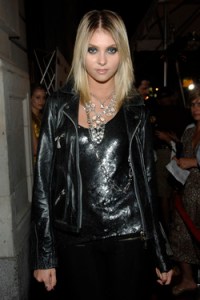 Spotted—also, striped, plaid, and fringed: all said looks were spied Sunday night in a display window at the Henri Bendel flagship on Fifth Avenue. The mannequins, as much as mannequins can be, were less silently bored than articulately, deliberately insouciant: the one on the far left held in her bent left hand a petite Sony Handycam; it was noticeably turned off, and angled at five o'clock, as if the spectators gathered on the sidewalk were obvi(ously) nothing worth committing to tape. Two places to her left, a blond had conjured the year's most fraught sartorial heresy: turquoise thigh-length stockings with color-matched open-toed pumps. As Labor Day nears, of course, every department-store window becomes deeply political, but the Bendel display was something more sinister, something approaching unbridled Nietzschean provocation.
Thigh highs? With heels? Sure, if I were still 15! If my legs were like Taylor Momsen's!
As it turns out, the five-mannequin tableau was the work of Eric Daman, high prophet of heeled hosiery and the costume designer for Gossip Girl. Gossip Girl, you'll recall, is a web log, long ago turned viral, that chronicles the comings and goings of beautiful Upper East Side prep-schoolers; like a tag cloud made flesh, many of its subjects were present under Bendel's center atrium Sunday, August 24, at a celebration for Mr. Daman's achievement with that window. Inside promised fruity drinks courtesy of Svedka vodka and fruity lipsticks courtesy of Yves Saint Laurent, but first there was a red carpet.
The camera adds 10 years, it seems; the summer hiatus, 10 Restylane sessions. The adults were gorgeous. Romantic rivals Rufus Humphrey (he plays Matthew Settle in real life) and Bart Bass (Robert John Burke) were trim and fit and tanned; they swept in with tailored blazers and collars akimbo, tieless in the manner of Barack Obama or Mahmoud Ahmadinejad.
Christy, a friendly mom from Toronto, rather literally swooned at the Rufus sighting. With her two teenage daughters, she had been camped out for hours in the first row of the civilian zone, just behind the press line-and now here was beefcake for the chaperones, implausibly numerous, of a certain age!
Suggesting more than ever the Platonic ideal of a young John Stamos, Rufus was reluctant to enter into any substantive discussion of Season 2 with the assembled media. Wouldn't it be nice if the Gossip Girl parents were given some OMFG sex scenes of their own? "Sure," he sighed, with the resigned air of an Uncle Jesse who never imagined he'd end up his generation's Jim Walsh. (The new 90210, incidentally, premiers September 2, also on the CW network, 24 hours after Gossip returns.)
Strangely, it was Bart who seemed more willing to talk music, if not exactly mid-nineties math rock.
"Ed is super-talented," he reported, referring to the absent Mr. Westwick, alter-ego of his brooding son Chuck. "I was blown away to find out when I first met him that he had this heavy West London accent and was in a band," called The Filthy Youth. "I downloaded the whole thing. Really punk. But he'll sing his punk songs, and do a beautiful a cappella section at the end."
Were Oasian (or worse, Blurrian) Brit-rock dreams worthy of the sole heir to the Bass, Inc. fortune? Were there not better pastimes for a boy of such stature, like brunching or figuring out how to get into Dartmouth—
"I'm sorry," said Mr. Burke, matronly date on his arm. "We have to get inside. We have a babysitter at home."
Lily van der Woodsen (these days, Kelly Rutherford) came into view. Ensconced in black satin, flaxen hair swept back, well-born cheekbones ashimmer, she had just about as much in common with your mother as The O.C.'s Kirsten Cohen did. She does, however, have a son, Hermès Gustaf Daniel Giersch (named, it has been reported, after the label), for whom it is easy to find "organic cupcakes" in the city but "tough to do the vegetable thing."
Hey, Kelly, are you a Bart woman or a Rufus woman?
"Wow, that's a really tough question." Pause. "I'm perplexed." Brow-knit. "A little of both? Yes, I think I'm a little of both."
And aren't we all?
There were more loquacious red-carpet co-stars. Two, in fact.
Hazel (Dreama Walker), as one of the Toronto sisters would remind you, was the Blair beta-bee from whose mother's closet social-climbing Little J stole a one-of-a-kind vintage Valentino. She also appeared, briefly, in five other episodes last year, with more to come.
"I actually missed an episode [this season] because I was filming a movie with Clint Eastwood. I play his granddaughter."
Whoever she was, our Hazel offered some tantalizing spoilers:
"Skin cancer runs in my family—I'm a redhead—so I really don't know anything about tanning."
And: "My mother was a hippie—hello! Dreama?—so I really wouldn't wear anything Hazel does. This dress"—black, mid-thigh, details indistinct—"is maybe the most Hazel thing I'd wear, but this vest"—constructed out of alternating bands of spotted and solid feathers-"is totally Dreama… I actually live in the Lower East Side."
Did you hear it's Blake Lively's birthday's tomorrow? [Aside: Why isn't she here?]
"Yeah! She's turning 21. I have great respect for her. I've seen her out and she's drinking water. So she hasn't been having alcohol underage or anything."
And do all the young Gossip girls look out for each other off the set?
"I've never had the dynamic of working with people my age before. Everyone's friends. I mean some of us have been lucky to have good keepers. And some of us, like me, have been stuck with really bad boyfriends…"
Any further explication was drowned out by an odd rasping noise.
"AHHHRRH! Omigod! Ruuuu-fus. I can't see! I can't see! Rufus!"
The timbre implied some decades of bourbon and unfiltered cigarettes, yet the accent, slack-jawed and non-rhotic, recalled Paramus Park Mall. The unholy racket was coming from a figure about four-foot-nine, pressed up against the velvet rope, despite repeated admonitions from large security men. She wore a teal velour hoodie up top and athletic shorts below, with bright sneakers and striped tube socks. Actual tube socks! There was a large hair clip growing out of the side of her head.
She was, no doubt, a Fan, and she dominated her end of the carpet as surely as the idling limousines did the other. Her combustions were decidedly external, though: elbows were thrown, as were near-fits. She was here first, and she was the biggest Gossip Girl fanatic, and so no, she won't step aside or stop yelping in your ear! Someone was going to have to answer for the news that neither Dan nor Nate nor Chuck would be showing up tonight, and oh, by the way, could the reporter from OK! Magazine snap a few shots for her with this digital camera?
The lovely Delaina Dixon of OK! Magazine demurred, and then-
"JENNNNNY! JEN-NNY! IT'S HER! JEHHHNNY! I CAN'T BELIEVE IT!"
Taylor Momsen. The tongue taps the teeth then pulls back; the lips pucker, then stand guard: Tay-lor. Mom-sen.
When we last left her in May, Jenny Humphrey was the 15-year-old naïf, gawky with a girlish slouch, outwitted by Constance Billiard mean girls of better breeding and bearing. She has since transformed into a New York icon named Taylor Momsen: vixen, It Girl, Blonde Beast.
Outside Bendel's, the other women, whether deceptively young (Ms. Rutherford) or deceptively old (Leighton Meester), smiled and posed in colorful cocktail dresses, taut but tasteful. Ms. Momsen, still 15, stalked the scene in pitch-black motorcycle jacket and implausible jeans, cut to fit less like your denim than your epidermis. An imposing breastplate of bright work hung from her neck.
"I decided to go full-out," she said, by way of explanation. "My inspiration was Joan Jett. I love dressing up. The masquerade ball episode was so much fun—I got to wear, like, a corset!"