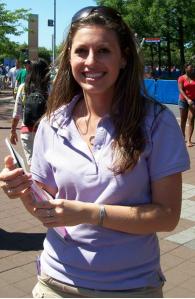 Juvéderm Injectable Gel is to the U.S. Open what Scientology is to New York City subway stations.
Kathy Lampiasi, 25, is an aspiring actress who got her job at the Juvéderm booth (which has a prime location outside of Arthur Ashe Stadium) through her work with Accent Promotions. Asked how the product differs from Botox, the most famous of the "injectable fillers," she gestured to her own, wrinkle-free face. "Botox only does up here, between your eyebrows," she said, "and then Juvéderm does these ones, the parentheses around your mouth." Apparently Botox and Juvéderm are not competing products at all: "Botox is only made to work up there."
Kathy is just handing out literature, but there are dermatologists on hand to give consultations about whether the unlucky souls who make it into the pastel pink booth would benefit from having acid injected into their cheeks. These dermatologists are also seemingly practicing pagan rituals on the Open grounds: "They've been holding mirrors and, like, drawing on people's faces."
There are also five-minute massages at the booth, so hurry!