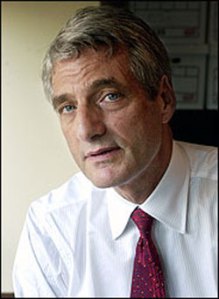 When the Obama campaign's unprecedented capacity to raise money online started to become apparent during the Democratic primary, Orin Kramer, the most established of Barack Obama's early supporters in the mega-bundler community, took to disparaging his own New York-centric breed of major Democratic fund-raisers as "dinosaurs."
But Mr. Kramer, an undisputed leader among this ancient, wealthy, largely Manhattan-based species of political fund-raiser, is still very much alive.
The Obama campaign has notified its most productive New York bundlers that to mount a decisive financial advantage over John McCain, it will for the duration of the campaign need to place a renewed emphasis on raising money the old-fashioned way.
"The Obama campaign has signaled, for example, through [national finance chair] Penny Pritzker, that it's going to rely more on traditional fund-raising techniques from here on out than it did through the primaries," said Roger Altman, a former deputy treasury secretary who started raising money for Mr. Obama after Mrs. Clinton dropped out of the race. "So their fund-raising will be more of a balance between the small donor, Internet-based fund-raising, and the traditional donor efforts, and therefore the New York fund-raising community is very important to the Obama campaign. And that campaign has been playing close attention to that community."
Most everyone in that narrow but incredibly influential world identifies Mr. Kramer, a 63-year-old curmudgeon who was first among the giants to throw his lot behind Mr. Obama, as the group's spiritual leader.
"I tease him with his kids, 'You know your dad is like Obi-Wan Kenobi,'" said Brian Mathis, a partner at the hedge fund Provident Group. "In my view, there is no more important person to our success in New York."
"A lot of people looked at his support for Barack early in this race as a sign, not only of how seriously Barack would compete financially in New York, but just how substantive of a candidate Barack was and is – because Orin doesn't throw his support lightly," said former representative Harold Ford, Jr. Mr. Ford would know: he recalled having to work hard during his unsuccessful bid for the U.S. Senate in 2006 before he got "the entire Orin Kramer machine" behind him.
Mr. Kramer, a lanky native of North Jersey who bears a passing resemblance to Alan Alda, helps manage the hedge fund Boston Provident, LP. He is well known in government and donor circles for his gruff, sardonic manner, and can frequently be found holding forth about politics or structured financial markets with his feet kicked up on a nearby table. He chomps unlit cigars.
"I maintain that it is a more disgusting form of chewing tobacco," said Ralph Schlosstein, another Obama supporter, financier and friend who worked closely with Mr. Kramer as a young staff member in Jimmy Carter's administration.
Mr. Kramer, who works in an 18th Floor office on Madison Avenue, does not go out of his way to invite attention for his work as a bundler. He turned down multiple requests to cooperate for this story, and only consented to confirm some facts and offer a couple of quotes when it was clear that the piece was going ahead without him.
He stuck with the dinosaur theme. "If we were determinative of the outcome then the outcome would have been different," said Mr. Kramer, noting that most major fund-raisers backed Hillary Clinton in the primary. The result, he said, "prove that as a class we weren't as important as people thought we were."
Mr. Kramer, who according to several former Clinton supporters is doing more than anyone in the country to erase Mrs. Clinton's debt, said that the initial choice last year to go in the opposite direction of almost all his friends was not an easy one. He received calls daily from Clinton backers soliciting his support.
"It was a very difficult emotional decision where there were a lot of countervailing factors. If I had a problem with the Clintons that would have made it easier, but I didn't," he said. In the end, he was convinced that Mr. Obama was a "transformational political figure" who could bring legions of people traditionally unenthusiastic about politics into the process and actually beat Mrs. Clinton. "I remember my wife saying, 'Given how you feel about this you'd never forgive yourself if you didn't do it.'"
Mr. Kramer is considered something of an oddball in the polished world of penthouse fund-raisers. During a dinner party with John Kerry and Teresa Heinz Kerry in the palatial apartment of uber-bundlers Steven Rattner and Maureen White in 2004, he received a reprimand from Ms. White for leaving the table to take a mid-meal walk, without explanation. At an exclusive party at the Gore-Lieberman Democratic Convention in 2000, Mr. Kramer drew the attention of Secret Service agents by suddenly laying down on the ground and using his backpack as a pillow. When Mr. Ford was first told to keep an eye out for the major fund-raiser at one of his events during his 2006 Senate race, he spotted Mr. Kramer laying on the floor against the wall.