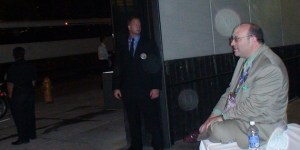 DENVER–The after-party for the New York delegation at the Museum of Contemporary Art last night got a little funny.
First, George Gresham, the president of 1199 SEIU, the powerful labor union, was denied access to the party because he did not have a delegation pin. (He is, in fact, an at-large member of the delegation. But rules are rules when it comes to these things sometimes.)
Then somebody knocked over and broke a big frozen "M" in an ice sculpture outside that spelled out the word Democracy.
Later, Andrew Cuomo decided to get angry at Steve Richman. Cuomo was leaving the party to go to his waiting car, when he took his jacket off, walked back, and starting waving his finger at Richman, who has been showing up to work New York Democratic events forever and has a day job as counsel for the New York City Board of Elections. They had what looked to be a quiet-but-intense conversation, with Cuomo doing most of the talking.
(Here's a shot of Richman right after that happened.).
I asked Richman what it was all about, and he told me Cuomo had wished to voice his displeasure about a matter concerning voter registration info. Cuomo had been sent a letter notifying him that he was on the "dupe" list. "Dupe" is short for duplication. The City B.O.E., in other words, was notified that Cuomo was still on the books as an active voter in Westchester, and notified him. The letter wasn't a big deal and these kinds of things usually get taken care of without much fuss. But Cuomo wasn't happy, apparently.
Later, when I asked Richman about denying access to Gresham, he said, "Two hundred people were turned away, including ink-stained wretches with credentials."
Which, I'm pretty positive, meant me.