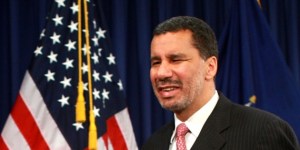 David Paterson's campaign committee is wrapping itself in yesterday's Quinnipiac poll, which found that a jump in the governor's approval ratings coincided with his tough talk about the state's fiscal crisis.
In an email to supporters titled "Leadership in Tough Times," Paterson's campaign writes, "Voters around the state have put their trust in the Governor, encouraged by his straightforward and honest talk on New York's fiscal problems," and, "New Yorkers want to hear the facts, and Governor Paterson is providing exactly that."
The email also makes a pitch for campaign contributions.
It means Paterson might be able to run for re-election by taking ownership of the state's fiscal condition, instead of paying a penalty for it–something of note for anyone thinking about running against him by campaigning on the dismal economy.