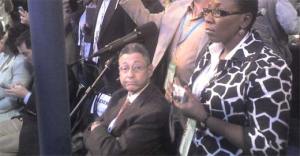 Here's Assembly Speaker Sheldon Silver earlier this afternoon during David Paterson's convention speech, during which the governor praised Barack Obama as the best candidate for disabled Americans and offered sharp criticism of John McCain.
"Wages are declining while inflation is at a 17-year high," Paterson said, adding that the "promise of America has also diminished for people with disabilities."
"Which of the candidates will make the change that will restore the promise of America? Well, let see. Is it John McCain?" he asked. After the crowd shouted, "No!," Paterson said, "No? I'm shocked." He went on, "In 2007, John McCain voted with the administration 95 percent of the time."
The crowd laughed. When he finished, the New York delegation jumped to their feet, shouting his name.
20-year-old Obama delegate Arthur Leopold of New York pronounced the speech "fantastic."
In a scrum with reporters afterwards, I asked Paterson how he felt about the time slot he was given. He went on stage around 4 p.m. local time–6 p.m. back in New York.
"I thought it was great. It was 15 minutes later in the program than four years ago," he said.
Richie Fife, an early Obama supporter and delegate from the Upper West Side, said shortly before the speech, "As long as he mentions Long Island, I'm happy." (Paterson, who grew up in Hempstead, did.)