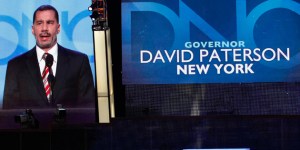 DENVER–Delegates at this morning's New York delegation breakfast were given specific instructions, both with an announcement and a flier on their seats: Do not miss Governor Paterson's speech.
Scheduled to take the stage at the Pepsi Arena mid-afternoon to talk about hard fiscal times, Paterson's speech marks something of an emerging moment for the governor. Now in his sixth month in office, he comes off a much-praised mid-year budget deal with the legislature, an inner circle of aides and top administrators that is mostly of his choosing, and a relatively high popularity rating in the state.
Just as importantly, he has found an issue that he likes, enabling him at this early-ish stage of his surprise tenure to cement his public identity first and foremost as a fiscal conservative manager in a bad economy.
It now seems clear that the his public attention and apocalyptic language on the subject was by no by no means just a flavor of the day invoked to wrest spending cuts from the current budget this summer. It is now, without a doubt, issue no. 1.
And why not? The issue has, in many ways, been a political gift.
In terms of public opinion, Mr. Paterson's poll numbers shot up when he first settled into the role of budgetary truth-teller. (A Siena Poll from mid-August put his approval-disapproval rating at 59-16 a particularly low disapproval rating that Eliot Spitzer last saw in his second month in office).
He then shocked many political observers and those in Albany earlier this month by getting the Senate and Assembly, in an election year, to agree to $427 million in cuts.
Speaking Sunday night to the New York Democratic delegation in Denver, he gave an uncharacteristically partisan rallying call to Senate Democrats, saying that in negotiations over the budget, it was the Senate Republicans that held up the cuts, not the Assembly Democrats.
"I want everyone to know that I asked for $600 million in cuts," he said. "Speaker Silver … brought us $800 million in cuts that could have taken us further than we were, and the only thing that stood between us and those deductions was the New York State Senate. Do you hear me Senator Malcolm Smith? Next year we don't want to have this problem."
Such talk is far more forceful than the Governor Paterson of April, May and June, when his strategy seemed to be focused on making it through the legislative session as a conciliator, scoring bi-partisan victories where he was able.
"He's being very forceful in the way he's speaking up," said Representative Jerry Nadler, referring to the recent budget deal. "He didn't go through histrionics, but he got the Legislature to do essentially what he wanted, and what needs to be done. I think he's been very forceful so far and he's very much growing into an outstanding player in the role."
By the end of the year and next spring, there will be more occasions to reach fiscal deals with the legislature. Once the election season is over, former M.T.A. chairman Dick Ravitch is due to release a report on how to find $17-billion plus for the MTA through some sort of new revenue source—be it a new tax or congestion pricing. And come March, the 2009-2010 budget is due to be passed, currently facing a projected gap of over $5 billion.
Which is not to say the sailing is all smooth. More than four months after Judge James Yates backed out of taking the job, the state is still searching for a counsel to the governor, a position currently filled by "acting" counsel Terryl Clemons, as well as a director of operations, where Dennis Whalen holds the role in an "interim" manner.
More seriously, there is every reason to believe that the legislature's patience for the governor's austere prescriptions will be shown to have its limits.
"Leadership is not just, 'rah rah' — it's also giving people news that they don't want to hear to the extent that they can stand it, and I think that's what he did for us," said state Senator Tom Duane. "There was bad news, but it was bad news that we could bring back to people where they could hear what we were saying.
"I'm hoping I'm not going to have to keep saying things like that."