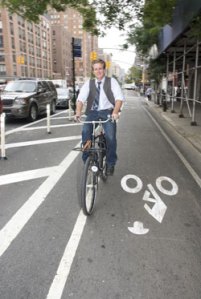 Location: Let's talk about the Summer Streets program. Has it gone as good as you would have hoped?
Mr. White: You know, when the city first announced Summer Streets, we were thrilled. The indications from other cities are that when streets are given over to biking and walking on weekends, it's been a huge success, but skeptics here in New York thought that not enough people would come out; but we have just had throngs of people coming out walking and biking, and it has really just exceeded our expectations for success. We are calling the summer of 2008 the 'Summer of Car-Free Streets,' and a few years from now we might look back at this summer as the summer when car-free streets hit the big time and people woke up to the enormous latent demand for car-free living and walking.
 
Were there any objections from businesses during Summer Streets?
The feedback from businesses really depends on what type of business you are talking to. Restaurants love it. They are seeing many more customers, not just during the event, but also after it from people who are lingering in the area. Parking garages hate it because they're parking fewer cars. I am not too worried about parking garages.
 
Do you think the increase of cycling in the city is indicative of a short-term or long-term trend?
All of the long-term trends point to more bicycling and public transit use. We are seeing a convergence of realizations right now that the more bike-friendly, the more pedestrian-friendly, the more transit-oriented the city is, the better the city does. I think that many decades from now many people will look back to the car-crazy 20th century as an anomaly. And I think that the 21st century is going to bring a return to what cities were in the first place, which is human interaction and exchange, and you simply can't maximize that if your streets are engineered for cars.
Last year was one of the worst years in recent memory for bicyclist fatalities. As long as people are being killed, cycling seems like it will be nothing more than a secondary mode of transportation. What are you guys doing about it?
Cycling is not inherently risky. What makes cycling risky is streets that are not designed for cycling. If you look at cycling in cities that have been catering to cyclists for many years, like Amsterdam, you don't see high injury or fatality rates. To change the equation on N.Y.C. streets, we encourage a wider application of protected bike lanes. That's probably the No. 1 way to insulate cyclists from many of the dangers that exist on our streets. There is much more that needs to happen on the enforcement side on speeding and reckless driving. Streets must be safer if we're going to see people cycling and walking in much higher numbers.
How do you compile stats for injuries and fatalities?
We have a Web site at crashstat.org that is state of the art. It renders on an easy-to-read map the historic rate of injuries and fatalities in New York, both counting pedestrians and cyclists. Right now, the limiting factor is getting timely data. That needs to change, and we are hoping that we are coming close to the day when monthly crash data will be posted to the Web, instead of how it is now, with data being put out every two or three years. That is critical to understand the problem as it exists, and to see the patterns in crash maps. Crashes are not random, and many of these accidents are preventable.
What about the issue of bike storage? Is it problematic if cycling commuters don't have a safe place to keep their bike?
I would put secure bike parking at the top of the list with secure bike lanes. The Department of City Planning did a survey a few years ago of would-be bikers, and it found that the lack of safe storage was the No. 1 deterrent. A bike is no different than a stroller or any other useful but sometimes bulky object, and you should be able to bring it inside. I am very surprised at the number of developers and building managers and owners that don't recognize how easy it is to enable easy bike access to buildings, and we hope to see progress on this.