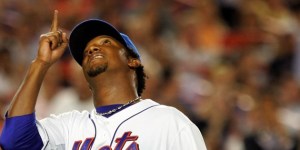 The only answer the Mets have about what they can expect from Pedro Martinez following his outing in Wednesday night's 4-2 loss to the San Diego Padres is that they can't know what to expect. As he has throughout his short season, Martinez provided both reasons for optimism and gloom during his 6 1/3-inning appearance. It was his second start back from a layoff caused by a groin injury and extended by his father's death.
"Well, I can't be satisfied with the loss," Martinez (who does not hide his disappointment over poor outings) told a group of reporters in front of his locker following Wednesday's game. "But I thought the results, overall, were positive."
And strictly in terms of results, Martinez was right. He pitched into the seventh inning on just 101 pitches, allowing two earned runs, none after the first inning. But once again, his command, which is what helped him continue to be an elite pitcher as a Met long after his 96 mile-per-hour fastball deserted him, often disappeared.
Martinez walked three, struck out just three, and allowed two long home runs—both in the first inning. The first home run came from Jody Gerut, the second from Brian Giles—neither hitter has reached double figures in home runs on the season.
"I feel pretty good about what he can do," Mets manager Jerry Manuel told the assembled media following the game. "But it's important for him to keep the ball in the ballpark—all the home runs are not Pedro-like."
They certainly aren't like even the Pedro that returned last season roughly a year after surgery to repair a torn labrum. In his 28 innings last year, Martinez did not allow a home run. Going back to 2005, his last healthy season, Martinez allowed just 19 home runs in 217 innings. In 2008, he's now allowed 13 home runs in 56 innings—an obscenely high rate.
Martinez pointed out that while he is still getting into shape, the hitters are not.
"[It's] rust, and when you miss location in the big leagues," Martinez said about all the home runs. "These guys, this time of year, are perfectly ready to just do what they have to do, with the pitch that they see in the wrong area. We're in August. Right now, those guys are 100 percent sharp.
"When a guy like me comes over, and makes a mistake, to them, it looks like a basketball," Martinez continued. "Especially if I'm not throwing 96 like I used to."
But Martinez has displayed repeatedly as a Met that he can throw well shy of 96 and still be successful—though his first pitch of the night, an 84-mph fastball that Gerut crushed over Shea's home run apple, was particularly slow—and noted by both Martinez and Manuel.
Still, Martinez got the fastball up to 88 mph by the end of the first, and repeatedly broke 90 in the second inning and beyond—a velocity that tops his fastball from 2005-2007. It was his command, however, that had made him dominant—an average fastball is only a lethal weapon if Martinez is spotting it, as well as his other pitches, the way he did in his prime.
An illustration of Martinez's intermittent control came in the fifth inning, with a pair of runners on and two outs. Martinez was facing the light-hitting Edgar Gonzalez—Brian Giles, who had homered and walked against him, loomed on deck. Martinez missed with a curveball, but came back to get Gonzalez to foul off a pair of good fastballs at 90 and 91 mph to get ahead, 1-2. After failing to get Gonzalez to chase a 1-2 fastball up, he came back with a pair of curveballs—both froze Gonzalez, but both missed, loading the bases.
Martinez wanted no part of challenging Giles—his earlier walk had been on four pitches, of the pitch-around variety—but now he seemed to have no choice. He then missed with a pair of curveballs, and everyone in the stadium, Giles included, expected a 2-0 fastball. Instead, Martinez perfectly placed a 78-mph changeup on the outside corner, inducing a harmless fly ball to end the threat.
It would be vintage Martinez—except Pedro, when commanding his pitches, would never let a poor hitter like Gonzalez reach on a walk.
Martinez sometimes appears incapable of getting major league hitters out, particularly early in games—witness his two home runs Wednesday, or the four runs on five hits he gave up to the Cardinals in the first inning on July 2. But he managed, in both games, to give up next-to-nothing over the remaining innings of his start.
Is he merely rusty, and the low innings total—he missed two months from April to June with a hamstring injury—will allow him to pitch more effectively from now until the end of the season? Or is his body betraying him, not only with various ailments, but, for the first time, keeping him from the pinpoint command that made him a legend? Even Pedro doesn't know what to expect from himself.
"No, I can't really predict," Martinez said. "Let's be realistic. Right now, I can't tell you—I've pitched, what, twice in a month? What I can tell you is that I felt great today. I haven't pitched like I need to pitch. I will try to stay healthy, and keep making adjustments. I have two months to get better and keep the team in the fight. I will get better, and I think I can take care of it."