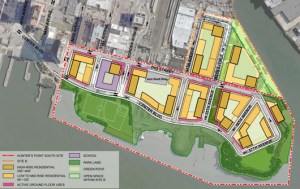 Last Wednesday the city held public hearings on three huge land-use plans, but only two of those were widely reported upon: the rezoning of the Lower East Side and the redevelopment of Willets Point. The third hearing concerned Hunters Point South (formerly known as "Queens West") and the development there of 5,000 units of housing, 60 percent of which, according to WNYC, would be set aside for residents who earn between $55,000 and $158,000 a year.
The massive project is on the 24-acre Long Island City land where the Olympic Village would have been built if New York won its bid for the 2012 Olympics. When plans for Hunters Point South were first announced a couple years ago, the city said all of the housing would be set aside for middle-income earners, but it has since changed its vision for the site to allow for the construction of market-rate units.
Meanwhile, a deal that would have given the Real Estate Board of New York (REBNY) a large measure of control over the development remains largely theoretical, according to REBNY president Steven Spinola.
"We're advising the city on the site as they bring it through ULURP," says Spinola. "We don't know how active a role they want us to play in the development, but right now we only have an advisory role, and it may continue to be just advisory. The city is talking amongst themselves about how to bring in the construction of the first phase."
The City Planning Commission is expected to vote on the proposal next month, according to a Planning spokesperson, and after that it would head to the City Council for approval.