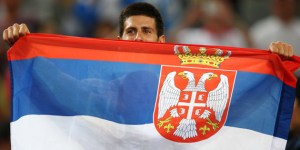 2007 was the year of the Serbian invasion of Flushing. Novak Djokovic became an overnight celebrity; we called Ana Ivanovic the savior of women's tennis thanks to her refreshingly grounded personality; Jelena Jankovic cemented a reputation as a tireless grinder whom the press adored.
And then this year got off to such a great start! Djokovic won his first Grand Slam in Australia and Ana Ivanovic won her first major at Roland Garros.
But since then, those beaming personalities and sparkly clean images have taken a bit of a public hit. First, before Wimbledon, Djokovic declared that Roger Federer was mentally fragile and plenty beatable. After that display of arrogance, Djokovic went ahead and got bounced in the second round. Meanwhile, Ivanovic, who reached the semis at Wimbledon in 07, suffered a humiliating straight-sets loss to a player seeded 133rd in the world. And Jankovic, after an early loss as well, reportedly complained louder than anyone about her court assignment at The Championships. Sports Illustrated's Jon Wertheim, in a story titled, "The Serbs' Dwindling Popularity," wrote, "You're in the second week of a Slam and you're griping about court assignments? It's not as though the net is higher on Court Two. Just win your match and move on. My sources tell me the most vocal griper was Jelena Jankovic (and her mom). Seems to me her outrage would be a lot better placed wondering why she is in her mid-20s and needs a medic-alert bracelet."
With the snap of a finger, our favorite pack of fresh and cute youngsters began looking and sounding more like entitled prima donnas.
Didn't the Times' George Vecsey predict last year that something very much like this would happen?