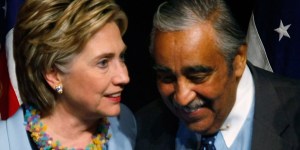 Hillary Clinton has released New York's delegates from any obligation to vote for her and asked them to vote for Barack Obama instead, according to Representative Charlie Rangel.
Just a few moments ago, as Rangel left a gala thrown by Sheldon Silver welcoming the New York delegation, I asked him why so many officials in the delegation, of which he is dean, are still confused about what to do at the convention.
"Clinton told me to tell everybody that they are released and to vote for Obama," said Rangel. When asked why so many in the delegation still didn't know that, he responded, "Now that's a stupid question."
But only minutes earlier, Bronx Borough President Adolfo Carrion, who was standing near Rangel, told me, "We're waiting for a sign." And representative Eliot Engel, who was waiting for a cab outside the Sheraton, had said he was waiting to hear for instructions from the Clintons. But, he added, "I've gotten it through the grapevine that they are going to release everybody."
The Associated Press reported earlier today that Clinton was expected to release the delegates at a breakfast Wednesday morning.
UPDATE: As he walked into an event in his honor shortly after Rangel confirmed Hillary Clinton's intention to release her delegates, Governor David Paterson answered a question on the subject by saying, "No, I hadn't heard anything about that."
Informed of Rangel's comments, he said "I haven't heard that one way or another, and by the time you write this, we'll know the answer."