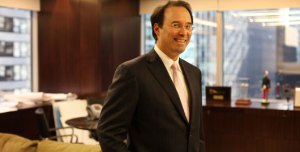 It's been 23 years since the Upper West Side first gasped at Donald Trump's plans for a series of soaring towers that would contain 7,600 apartments and a 150-story headquarters for NBC on the 75-acre Penn Central rail yards.
The battle that followed was an epic one—Mr. Trump this week recalled it as a "war to the death"—with politicians making and breaking careers on the issue. The project, first dubbed Television City, then Trump City, and ultimately Riverside South, underwent a series of permutations and eventually was scaled back and approved, gradually rising in an undulating row of apartment towers just east of the West Side Highway.
Now, nearly a quarter-century later, with the site still not fully built out, a new developer is seeking to reopen a can of worms that was sealed shut 16 years ago, with plans to fidget with the hard-fought development restrictions approved in 1992. That developer, Gary Barnett of Extell Development, is calling for more development rights to allow a series of five mostly residential towers to rise on the large southernmost parcel of the site, a complex that would mark the final chapter of the storied West Side fight that began a generation ago.
Expect resistance. While Extell's plans do not seem to be the hornet's nest that marked Trump's early proposals, the local community board is skeptical of a host of issues, and area politicians are cool to the idea of added density and a potential Costco that Extell has proposed.
Extell has been meeting with the community on and off since acquiring the site in 2005, and now is hoping to kick off the project in the fall with a preliminary scoping hearing at the Department of City Planning. Some time later—likely, at least a few months—the proposal would start its journey through the city's seven-month public approval process, which requires a thumbs up from both the City Planning Commission and the City Council.
Certainly, Mr. Barnett is not looking to follow the long, winding road to approval taken by his predecessor at the site, which runs in its entirety from 59th to 72nd streets just east of the West Side Highway. (The southernmost parcel in question runs from 59th to 61st streets.)
From almost the minute Mr. Trump began boasting about his proposed Television City, the community was in an uproar, with a constant stream of media attention focused on the mogul and his grandiose plans. The resistance ultimately scared away anchor tenant NBC, leading to a revised plan that the community and the elected officials still opposed.
"That was a war to the death—with everybody," Mr. Trump said this week.
A war, indeed: At one point in the talks with Mr. Trump, Mayor Ed Koch issued a statement saying the developer was "squealing like a stuck pig," and the community was ever defiant. But, ultimately, approval, via a "restrictive declaration" defining what could be built on each of the parcels, came in late 1992 after Mr. Trump struck a compromise deal with a set of civic groups. With support of the civics, he won over key elected officials, including then Borough President Ruth Messinger, whose vote of support ultimately wounded her politically, given the bitter taste it left with her Upper West Side base constituency.
"I got Ruth Messinger on board—I got everybody on board," Mr. Trump said. "And, frankly, once I got the civics' involvement, there was very little opposition, and we ended up getting 6,000 units plus commercial space."
Financial troubles then hit the project—Mr. Trump sold off much of his stake in the mid-1990s to a group of investors from Hong Kong—and the first building permit was not issued until 1997, slowly advancing from north to south.
In mid-2005, Extell and the Carlyle Group bought the remaining property for $1.76 billion, though Mr. Trump later filed a lawsuit claiming his Hong Kong investors could have gotten a higher price.
Now, Extell has set its sights on the final three lots at the southern base of the development, known as lots L, M and N; and with no desire to build the 1.7 million square feet of predominantly television studio space that the 1992 agreement stipulates, the developer wants public approval to allow for a giant complex of residential buildings in its place.
The proposal, shown to members of the community boards and representatives of elected officials, calls for five mostly residential towers on the large two-block site, with one on each corner and another near the middle. Extell has brought on Pritzker Prize-winning architect Christian de Portzamparc to design the towers, one of which would rise to 594 feet, as currently envisioned. Such a design would likely mark a distinct change from the relatively bland buildings throughout the rest of the site. (Extell declined to share its renderings of the proposed towers with The Observer.)
The scale being proposed is significantly greater than what was initially planned for the site. According to figures Extell presented to members of the community board, the complex would be about 3 million square feet in size, with perhaps 2,500 apartments, well above the approximately 2.4 million square feet that remains under the development rights allowed by the restrictive declaration. In addition, Extell wants about 280,000 square feet of below-ground retail space—roughly half of which would go to Costco, should Extell ultimately win the company as a tenant—accompanied by 2,300 parking spaces, up from about 780 in the restrictive declaration (below-grade space is not counted in the zoning measurements).
George Arzt, an Extell spokesman, said the additional density is desired in order to provide larger apartments, to build more affordable units, to create more varied retail and to allow for better architecture. Still, he noted that plans were far from final.
"The only thing that's constant is change, and this is just at the beginning, so there will be a lot of change going on," he said.
Requests for more density are not viewed kindly by many West Side activists. They were against the bulk proposed in the 1990s and have little tolerance for more today, especially given the effort put into the restrictive declaration of 1992, which superseded the underlying zoning.
"We're talking about an absolute nightmare—an absolute nightmare," said Batya Lewton, vice president of the Coalition for a Livable West Side, a community group formed in 1981 to oppose a large planned project that preceded Television City. "They're asking for, unbelievably, 2,300 more parking spaces in an area that is just so overwhelmed with traffic."
The plans have also provoked a less than laudatory response from U.S. Representative Jerrold Nadler, who for years battled Mr. Trump in an effort to block the project. "The entire site is too high," he said, "and what they're asking is for an even higher density, and obviously it's going to have to be scaled back."
As was the case in the 1990s, the area's politicians will play a major role, particularly the local council member. Until the end of 2009, that's Gale Brewer, who is anti-Costco and pushing for a commitment to build a school on the site, among other issues.
However, that dynamic could change depending on the timing of the public approval process. Should the project come before a Council vote after Dec. 31, 2009, when Ms. Brewer will be cast from her seat by term limits, a new politician will take her place, and presumably have his or her own feelings about the Extell proposals.
Already two potential successors are rather involved: Helen Rosenthal, chair of Community Board 7, is considering a run for Ms. Brewer's seat, as is Micah Lasher, Mr. Nadler's aide and point person on the Extell plan.
ebrown@observer.com