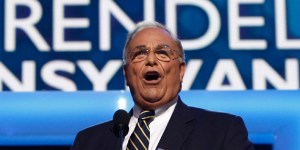 DENVER–Less than a day after the Democratic Party nominated Barack Obama as its candidate for President, two of Hillary Clinton's strongest supporters held a private meeting with top donors to talk about some close-to-the-ground methods of improving his performance in the critical swing states of Ohio and Pennsylvania.
"It was a mix of Obama and Clinton donors," said Pennsylvania Governor Ed Rendell, who hosted the event with Ohio Governor Ted Strickland, as he left the meeting "Dodgeball" room of the Curtis hotel. "And a lot of those folks go back with me to 2000 when I was the DNC chair. We discussed ways to legally help the Pennsylvania and Ohio Democratic parties, to strengthen the parties, which will strengthen their abilities to get what is called a coordinated campaign going. To do things like registration and turnout, to direct money to the parties to do that, which helps us in our state reps race, it helps us in our State Senate race and helps us in our Congressional race and it also helps us in presidentials."
Rendell emphasized that "that money cannot be used by candidates. It cannot be used by candidates. It cannot be used for television. It has to be used for what are called party-building activities. But party-building activities help the guy running for state rep, they also help the guy running for president."
Asked if he felt as though he were restarting from scratch after the long primary season during which he emphatically supported Hillary Clinton, Rendell said, "A little bit," but added, "Of course our state laws in Pennsylvania and Ohio are much more liberal than federal laws, with less limitations."
The meeting lasted about one and a half hours and was attended by donors such as Bill Titelman of Pennsylvania, Morris and Barbara Pearl of New York, Richard Richman of Connecticut and Bernard Schwartz of New York, a close associate of Bill Clinton.
"We talked strategy, we talked a lot of things," said Strickland when asked what was asked of the donors. "These are friends that Governor Rendell and I have had over the years and obviously are interested in Ohio." He added, "It was an effort to communicate what we think we must do in Ohio and Pennsylvania to have a chance of winning."
Schwartz said the governors expressed a lot of confidence at the meeting.
"It would look as if we are ahead now and we have a lot of tools going forth," he said. "There was a lot of emphasis today on the amount of organization on the ground. And the point made that in the case of Pennsylvania that the winner of this campaign is not only important for presidential politics but for redistricting that comes in the future, so it is a very important election. And both have indicated that it is the organizational ability of Obama plus the Democratic organizations within the parties.
"Republicans can't win the election without Ohio, and we're focusing on that."
He added, "There is a lot of confidence being expressed now, by both the governors, and the people doing the fund-raising. This is the time that everyone wants to go out and do it. There are joint state parties that are non-federal, and the governors are making that point. There are issues here that can be made available vehicles for people who are maxed out. But we shouldn't think of being only donors. There are a lot of people in this country who are not maxed out and organizing them is extremely important. And I'm focused on that."
Remarking on the fact that Obama and Clinton donors both participated in the meeting, Schwartz said, "I think the party has really now come together for the first time. We're the Democratic Party again."