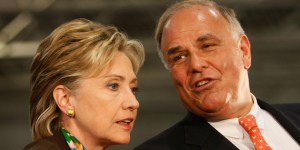 DENVER–Ed Rendell, the governor of Pennsylvania, is a man of large and unfettered appetites, and to see him tear into a small, crustless reuben sandwich, corned beef flying, is a little like watching a lion take after a plump, wounded antelope. His first order of business completed, Rendell gallumphed up the microphone at the Pinnacle Club, where the Pennsylvania delegation was having lunch on Tuesday afternoon, a few hours before Rendell and Hillary Clinton were to address the Democratic Convention.
"Isn't the food terrific here?" the governor began, and then segued into some stern instructions. "I want to make sure that we do two things tonight. Number one that we are unified as a delegation in cheering for Hilary Clinton. And I know we'll do that, cheer for her: before she gets up to speak, after she finishes, and tomorrow the same thing for President Clinton, and of course on Thursday for the next president of the United States, who Pennsylvania is going to put over the top. I don't want to hear one discordant note."
The possible sources of discord didn't need to be mentioned: Clinton won Pennsylvania, obviously, and Governor Rendell was one of her strongest—if occasionally most off-message—advocates. After he finished speaking, the governor was asked whether the stories of tensions between the Clinton and Obama camps, an inevitably dominant theme of this convention, were as fraught as portrayed.
"They're overblown," Rendell said. "But that's not to say that there isn't some—among a very small percentage—some lingering hard feelings. We have a few PUMA-ites in our midst and we have a few Obama people who are still ticked off at President Clinton, but I think we all know that to achieve our objective we need to be totally united."
I said that it seemed as if Bill and Hillary Clinton faced a particularly difficult task in their speeches, in that they had to talk about the positive legacy of their administration without seeming as if they were offering a final rebuttal to Obama.
"I think Senator Clinton will do that easily," Rendell replied. "She's going to say to everybody and to millions of Americans, she's going to say to them what she said that Saturday in Washington"—he was referring to the speech in which she announced the suspension of her campaign—"which is, 'we can't waste any time looking back, no regrets, no what-might-have-beens, but look forward. If you believe in me and the things that I wanted to do for this county you have to be for Senator Obama. It's the only way to accomplish our joint goals.' And I think she's going to fire up the Clinton Democrats."
"You didn't mention the other member of the Clinton family," I said.
Rendell grimaced a little. "President Clinton, I don't know exactly what the president's going to talk about, but I think he'll do a good job as well," he said, hurriedly. "But I am certain that Senator Clinton will hit it out of the park tonight."