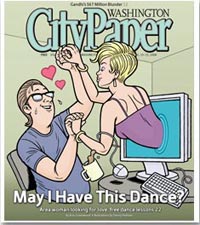 Sommer Mathis of DCist is reporting cuts ahead at The Washington City Paper. According to a "newsroom insider," the paper (which, along with five other papers nationwide, is owned by Creative Loafing) has to reduce its budget by $170,000.
Ms. Mathis quotes City Paper editor Erik Wemple as saying:
Like a lot of media companies, we are going through an exceptionally rough period, and indeed we are discussing how to cut expenses. I don't want to cite any figures at this point because we are trying our best as a company to minimize the impact. But yes, layoffs are part of the discussion.