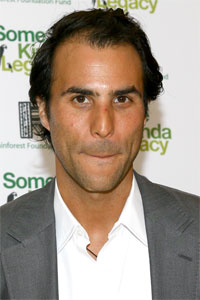 Deadline Hollywood's Nikki Finke is reporting that NBC Entertainment co-chairman Ben Silverman will be appearing this season on HBO's glitzy Hollywood fantasia Entourage.
As Ms. Finke writes:
Fox mogul Tom Rothman and NBC mogul about to go-go Ben Silverman will appear in cameos this fall as well as ABC's The View and film critics Richard Roeper and Michael Phillips. Now exactly whose idea is that edgy viewing? Unless, of course, Ben is partaking of weed or worse on air.
Mr. Silveman, who is assumed by some to be the basis for B.J. Novak's temp-turned-ambitious executive on The Office, will probably not be toking any weed on HBO after Esquire"s Matthew Belloni wrote in November 2007 that:
Few doubt Silverman's talent as a dealmaker, but critics wonder if that's all he is, if his skills are limited to peddling formats rather than developing good shows from scratch. They also say he's little more than an effective networker and promoter, mostly of himself, and that the party boy who is rumored to have trashed a William Morris colleague's office on a drunken bender (true, he says) and who supposedly delayed his GE-mandated drug test to flush his system (not true, he insists) isn't mature enough for a network's top job.
In a follow up to that interview, The New York Times' Bill Carter quoted Mr. Silverman disavowing some of his statements in that article (not specifically about drugs), claiming the Esquire writer "was provoking me and pushing me." Hopefully Turtle treats Mr. Silverman with more respect.