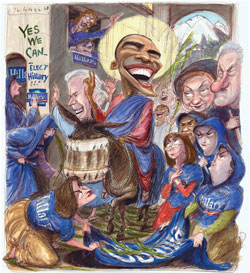 By Jason Horowitz
DENVER—Walking into the Pepsi Center here on the morning of Aug. 25, the first day of the Democratic National Convention, Senator Jim Webb of Virginia had a message for the supporters of Hillary Clinton.
"I think they ought to do whatever she wants them to do," said Mr. Webb.
It seemed a little late for that.

>>READ MORE
By John Koblin
DENVER—On Aug. 25, The New York Times' chief political reporter, Adam Nagourney, was looking for a pair of seats for an interview in a sawdust-ridden tent in the parking lot of Denver's basketball arena that served as the paper's media workspace.
The Times wound up bringing so many staffers to this event (60!) that nearly every seat in its space was occupied in that area; he walked over to Bloomberg News, where there were another 30 workstations set up.
By Felix Gillette
A few minutes before 11 p.m. on Aug. 25, Rachel Maddow was sitting behind a desk in a double-decker, alfresco television studio her television network, MSNBC, had erected near the old train tracks that cut through downtown Denver, from which Ms. Maddow was to punditize to the public from the near environs of the Democratic National Convention.
"It should be noted that this is a four-night infomercial," she said.
By Andrew Rice
DENVER—Art is to presidential politics what food rations are to war—a necessary component of the enterprise, but nothing one would choose to consume under normal circumstances. In this, as in so many ways, Barack Obama's campaign is different.
Early on, Mr. Obama captured the fancy of the bicoastal artistic community, and he's gone to unprecedented lengths to incorporate their creations into his campaign. Perhaps the most successful example of this collaboration between the graphic and the political is a series of posters created by the designer Shepard Fairey: agitprop-like images of the candidate's face, superimposed over words like "hope" and "progress." Copies of the posters, once available through Mr. Obama's Web site, have long since sold out; they are now going on eBay for more than a thousand dollars apiece.
By Steve Kornacki
Ideally, a political convention serves to introduce or reintroduce the public to a party's presidential and vice presidential nominees in a way that produces a meaningful "bounce" in the polls. It doesn't always work. Here's a brief summary of the Democratic nominations of the modern era, ranked (from best to worst) in terms of how effective they were in positioning the party for victory in the fall.

>>READ MORE
By Spencer Morgan
"I think the most interesting thing I've seen so far is all the secret deals that have been going on," said the actor Josh Lucas at the Going Green event hosted by Bank of America on Monday night. The American Psycho star is at the Democratic National Convention, making the rounds of the Creative Coalition circuit of events. "It's been happening everywhere. 'I'll give you two tickets to the J.Lo party, you give me two tickets to see Fergie on Thursday.' It's been happening everywhere. It's like serious drug dealing going on."