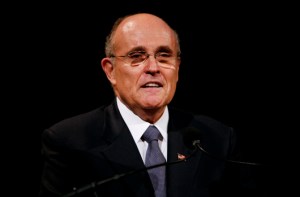 Rudy Giuliani is not the first person many conservatives would have picked to deliver the keynote address at the Republican convention later this month, but given the uphill battle many of them see John McCain facing in November, it appears to be a choice they can live with.
"Maybe in other years I'd be more picky about it," said Gary Bauer, an evangelical leader who is an informal adviser to the McCain campaign. Citing Republican fatigue and a severely sluggish economy, Bauer said, "People understand that this is a tough year and that Rudy Giuliani is admired nationally for both his success as New York mayor but also his performance after 9/11."
He added, "While people have significant differences with Rudy Giuliani, they will understand the value in showcasing him at the convention."
The McCain campaign announced Giuliani as the convention's keynote speaker on Wednesday afternoon. According to one source close to Giuliani, the McCain campaign recently notified Tony Carbonetti, Giuliani's senior political adviser and longtime aide, who then personally informed the mayor about the pick. Carbonetti, who is also personally close to McCain, has appeared at several McCain campaign events around the country and often rides in McCain's car.
For now, the official reaction from the former mayor was humble appreciation.
"I'm honored to be a keynote speaker at the Republican National Convention and tell the American people why John has the experience, character and courage to lead the country," said Giuliani in a statement. "There is no better opportunity to remind people what I have known about John all along — he is a proven leader who will put country first and tackle the tough issues head on."
Meanwhile, Giuliani's supporters argued that putting the former mayor in a visible role would improve Mr. McCain's chances in November because he appealed to the moderate Republicans and independent voters who very well could determine the outcome of the election.
"The McCain campaign makes decisions in what is in the best interests of the McCain campaign," said Randy Mastro, one of Rudy Giuliani's closest aides. Giuliani, he suggested, echoed McCain's independent streak. "John McCain is running a very powerful ad right now characterizing himself as the original maverick and as one who is ready to lead. It is something that he and Rudy Giuliani share — they have proven leadership in the toughest of times."
Another former adviser, speaking on background, put it this way: "The battleground is always in the middle. It's not the party regulars on the left or the right, but slam dab in the center. Yes, Rudy will help with the independents, but he'll also rally the troops by his ability to get the convention rocking and rolling."
The trick for the McCain campaign now will be getting Giuliani to the convention in one piece. In his public debut as convention keynote speaker, on a conference call arranged by the McCain campaign, Giuliani was fairly assailed by participating reporters, prompting a defensive reaction from the McCain aides running the call and offering a reminder of the controversies and uncomfortable associations that helped sink his presidential bid.
The Wednesday afternoon call, ostensibly to talk about a reported meeting between an Obama adviser, Ambassador Daniel Kurtzer, and Syrian government officials, wound up being about Giuliani himself.
At one point, Giuliani seemed to suggest that McCain would be open to picking a pro-choice running mate. A follow-up questioner was subsequently cut off by the McCain campaign.
Earlier in the call, a reporter asking Giuliani about his own association with hostile foreign entities seemed to disappear, mid-query, from the call entirely. (The reporter subsequently said that he was dropped.)
When asked whether McCain could pick a pro-choice vice presidential nominee, Giuliani said, "It would seem to me that the Republican Party is not, as far as I can tell — and I have traveled to thousands of places last year — a one-issue party. And that would just be one issue among many that would have to be evaluated by the party. But I believe the party will support Senator McCain's choice."
That answer prompted a follow-up from a reporter from the conservative blog Town Hall.com: "Actually, my understanding is that yesterday Fox News reported the RNC said McCain is no longer considering any candidates who are pro-choice. To your knowledge, is that incorrect?"
McCain aide Mike Goldfarb then interrupted, saying, "We could do a call all day about Senator McCain's VP choices; frankly, we're not talking about Senator McCain's VP choices until he makes a VP choice."
Before that, Ron Kampeas, a reporter from the Jewish news outlet JTA, essentially accused the McCain campaign of hypocrisy for criticizing Kurtzer for meeting with the Syrians because Giuliani, he said, has represented the company Citgo, which is owned by the Venezuelan government. He also noted that Giuliani's firm once represented Saudi Arabian interests.
After several denials by the mayor, Kampeas kept pushing. Eventually, the reporter's line went dead in midsentence. The McCain adviser on the call asked if there were any other questions for the mayor.