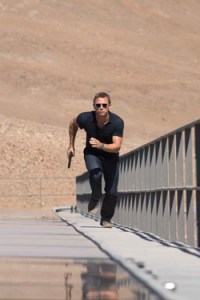 The Spy's Bedside Book
Edited by Graham Greene and Hugh Greene
Bantam, 252 pages, $12
While Graham Greene and his brother Hugh were compiling The Spy's Bedside Book, a medley of vignettes of spycraft drawn from fiction, memoirs and historical documents first published in 1957 and now reissued just in time, it seems, for the return of the Cold War, they stumbled upon the deep explanation for why tales of espionage cast so strong a spell over their readers: "I wonder how many would be able to detect truth from fiction in this anthology," Graham writes in the introduction, "if the editors had not printed the names of the contributors."
In the book's epilogue, Hugh sounds a similar note: One day, in search of fresh material, he inquired after spy novels in a London bookshop. The clerk suspiciously responded with a question of her own: Which foreign government did he represent? The last person to ask after the shop's spy novels was an official of the German government, she explained, who bought every single one of them and shipped them home in parcels, where, presumably, German intelligence combed through them for insight into the methods of their British enemies.
Elisions of fact and fiction are what make The Spy's Bedside Book. Editors with a less keen appreciation for the role of the imagination might have arranged these snippets by author or period, or divided them according to whether they were "true" stories or not. The brothers Greene—Graham the novelist and onetime agent of British intelligence, Hugh a press correspondent in Nazi Germany who went on to become director-general of the BBC—chose instead to organize their material into such eminently practical topics as "For Beginners," "Some Simple Disguises," and "Tricks of the Trade."
In danger of being caught crossing enemy lines on return from a mission? Consult "Disguises" for instructions on quickly outfitting yourself as an obstreperous (yet harmless) drunk. Or as any good spy knows, it's nearly as effective to simply lower your pants and squat in the nearest trench. "It is extraordinarily difficult to cross-examine a man in such a position," observes German spymaster H. R. Berndorff in Espionage, his 1930 intelligence manual (see "Tricks of the Trade").
Did a first edition of the Greenes' anthology make it to the bedside of the C.I.A.'s Castro-assassination squad? An excerpt from William Le Queux's 1905 novel The Czar's Spy describes a Russian minister's death by exploding cigar. A foolproof plan in Le Queux's telling, anyway.
The more glamorous, more ingenious side of the archetype finds a place here too. Dapper James Bond coolly sprinkles pepper into his vodka in order to neutralize the poison he suspects is there, and one can't help but admire one (real) British spy's brilliant ruse of posing as a dotty butterfly collector while wandering among enemy positions, encoding maps into what appeared to be drawings of butterflies, remarkable illustrations of which are, of course, included—should the technique come in handy.
If all this seems like too much fun, consider the brief passage, a gem of the most painful irony, in which Guy Chapman, a friend to the famous Alfred Dreyfus in his post-Devil's Island old age, recalls the evening when Dreyfus' bridge partner "remarked that a certain X had been arrested for espionage, and then, realizing the tactlessness of his remark, added that he did not suppose there was anything in it. Dreyfus, calmly dealing, rejoined: 'Oh, I don't know; after all, there's no smoke without fire.'"
Damian Da Costa is on the staff of The Observer. He can be reached at ddacosta@observer.com.