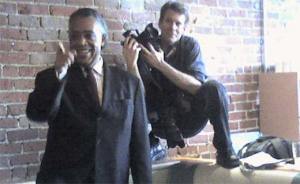 Reverend Al Sharpton doesn't only want church-goers to vote, he wants churches to be part of an effort to make sure that every vote is counted.
"Imagine if every pastor had their members sign up so we can check to make sure their vote has not been miscounted," Sharpton said, speaking to reporters during a reception in his honor in Denver yesterday. "We can't wait till they show up that day and they're not on the books. We need to do it now."

Sharpton said he will focus his efforts on seven key states: Florida, Ohio, Pennsylvania, Georgia, North Carolina, Tennessee, and Alabama.
When I said it sounded like George W. Bush's campaign strategy of turning out church-going voters, Sharpton said, "Right. This is organizing. And as you can see," he said, "we're not only galvanizing voters, but checking their voter registration role. And this is nonpartisan. They can't even say the church is being political. We are making sure our members' registration is there."
Sharpton called it an "interdenominational" effort: "Baptist, Methodist, Presbyterian, United Church of Christ – across the board," he said.
When I asked if that included evangelical voters, who have mostly supported Republicans in recent years, Sharpton said "absolutely." He said he wasn't concerned that his effort might also turn out Republican voters.
"It doesn't matter. We are fighting to protect the right to vote." He added, "This generation's job is not to get voter's rights, it's to protect voter's rights."