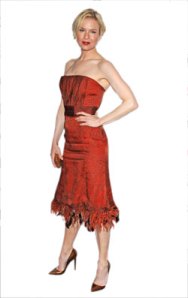 Actresses don't tend to have a particularly easy time getting into Upper East Side co-ops. At River House, the building so wonderfully correct that real estate brokers cannot use its name in marketing materials, Diane Keaton was turned down back when she was a bachelorette linked to Woody Allen, and Joan Crawford was rejected, too (though apparently because Coca-Cola's president was in the building, and Ms. Crawford was on Pepsi's board).
But Renée Zellweger has outsmarted the neighborhood.
According to city records, the 39-year-old actress has gradually amassed an $8.2 million spread in a small, unassuming co-op at 82nd Street and Madison Avenue. A real estate trust called the East Coast Group, which has been connected to the actress' past deals in the Los Angeles Times and elsewhere, just paid $2.8 million for an A-line unit in her Madison building, the kind of place that was probably a mega-luxurious single-family mansion early last century. The new unit is on the same floor as a $2.2 million space and a $3.2 million combined-unit co-op she bought last year.
The seller is Ruth Tyrangiel, who, with all due respect to Ms. Zellweger's Academy-recognized cinematic accomplishments (including but not limited to the teary "Shut up, just shut up, you had me at 'hello'" in Jerry Maguire), is probably the more interesting of the two.
In 1994, she sued Bob Dylan for over $5 million, claiming that they had been lovers from February 1974, when he was still married to Sara (whom you may remember from such excruciatingly wonderful songs as "Sara" on Desire), to November 1993. During that 20-year period, she claimed to have fully tended to his "needs, interest and well-being," and she alleged breach of contract, fraud, deceit and infliction of emotional distress; and she complained about "loss of energy, loss of sleep, severe tension, profound shock and anxiety." The suit was reportedly settled out of court.
Calls to Ms. Tyrangiel's phone at the Madison co-op were not answered, and e-mails to Ms. Zellweger's publicists were not returned.
mabelson@observer.com