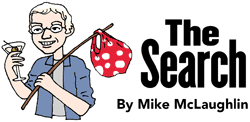 Brooklyn Paper senior reporter Mike McLaughlin just got dumped — now he needs a new girlfriend and, more importantly, a new apartment.
Cue the cameras! Mr. McLaughlin will be chronicling his search for love and shelter in a new weekly video segment called "The Search."
"It's a classic New York story," said his boss, Gersh Kuntzman.
Note the comments:
"All my lady friends are going to be beating down his door… granted he needs to get a door first."