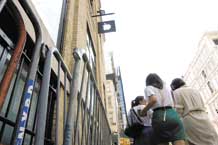 "We've been suffering ever since they moved in [six years ago]," said Sean Sweeney, director of the SoHo Alliance and Greene Street resident, who ticked off a litany of complaints ranging from noise from steam cleaning the façade in the middle of the night or from the HVAC equipment on the roof to the hordes of people who line up for new gadgets — and allegedly leave behind heaps of trash.
The final straw — which prompted Sweeney to fire off a letter this week to elected officials — was last Tuesday's Jonas Brothers concert held at the store, attracting thousands of screaming tweeners for several hours to Sweeney's block "like it was Shea Stadium and the Beatles."
Read Mr. Sweeney's full letter after the jump.
To:
MBPO and elected officials, Apple (AAPL) SoHo management, SoHo Residents and Businesses
Dear Manhattan Borough President Stringer,
The residents and businesses of SoHo desperately need your help regarding constant problems we have with Apple SoHo. I contacted Shaan Khan, your Director of Community Affairs, and he has agreed to facilitate a meeting between the surrounding high-end stores owners, local residents and Apple SoHo representatives and other elected officials to find a solution to these problems.
Since the Apple SoHo store moved in six years ago, it has become the worst neighbor in SoHo. No bar, nightclub or construction site comes close to ruining continually our quality-of-life like Apple SoHo has. This is very disappointing since the many Mac users in SoHo initially welcomed the store.
Even before the store opened, the SoHo Alliance was receiving construction complaints from residents and businesses, and there have been over a dozen complaints filed with the Department of Buildings since then.
However, the final straw occurred last Tuesday, August 12th with an in-store performance by the Jonas Brothers, who recorded "Jonas Brothers Live" for Apple's i-Tunes. This concert attracted thousands of young teenage girls who SCREAMED INCESSANTLY on the street for
hours
for their idols, blocking traffic, injuring one resident in the crush, and inconveniencing scores of other people and businesses;
This concert for the Jonas Brothers was like the Beatles at Shea Stadium. The screaming was that loud. However, residential Greene Street is not Shea Stadium.
A commenter on that blog writes:
I waited 17 hours in line, to be mobbed by millions of girls.
We left crying because my friend couldn't breathe and had a panic attack.
The whole thing was stupid and disorganized.
Now please imagine this on the public street, constantly, for hours and hours when people are trying to work, rest or relax!
Another blogger notes the 'huge, insane, loud' line of screamers:
These regular music performances by Apple may violate the Zoning Resolution, the Certificate of Occupancy, and the Public-Assembly-permit requirement (they have no P.A.). There is a
68-seat theater
on the mezzanine level, but I could find no C of O permitting such a use on the NYC Department of Buildings website. However, USA Today reported (
http://www.usatoday.com/life/music/news/2008-08-12-jonas-bros-nyc_N.htm
) that
450 people 'mobbed'
inside the store (not to mention the hundreds and hundreds left outside all day screaming and blocking pedestrian and vehicular traffic on the street). This is clearly a Pubic Assembly violation as well as a fire-safety hazard.
Perhaps a call to the FDNY during the next concert, bringing it to an end mid-performance, is in order. Nor would Apple welcome a lawsuit if one of these young girls were struck by a car while blocking vehicular traffic.
However, there are many other examples of irresponsible corporate behavior by Apple SoHo:
– construction occurring after midnight on the public sidewalk with loud power machinery several times in 2006;
– lies to me and the Manhattan Borough President's Office by the manager, Paul Fradin, that Apple SoHo had night permits for this work when in fact it didn't;
– crowds for Apple SoHo on a regular basis that necessitate police barricades, adding to pedestrian crowding, preventing access to high-end businesses on Greene Street and subsequent diminution of income, as well as restricting residents access to their homes;
– subsequent litter left by these crowds who often number in the hundreds, and who line up and even camp out overnight on public sidewalks, giving SoHo the appearance of a homeless encampment;
– Apple employees during their breaks lounging, eating, smoking, littering – in effect, trespassing – on nearby people's stoops;
– a newly installed HVAC unit with little or no sound mitigation or baffling with very loud noise emanating into residences. Possibly you can see if an inspector from the Department of Environmental Protection can do a sound-meter reading, since the new Noise Law severely restricts noise coming into people's homes.
– flood lights on the roof often kept on all night, glaring into people's homes;
– etc, etc.
Everyone in the vicinity of Apple SoHo has been contacting me for a solution. We need assistance to curb this egregious corporate behavior. It is gratifying that your office is willing to initiate a facilitation of these problems.
Thanks for your office's offer, looking forward to working to alleviate these problems.
Regards,
Sean Sweeney, Director
SoHo Alliance
cc:
Martin Connor, NYS Senate
Deborah Glick, NYS Assembly
Shaan Kahn, Office of the Manhattan Borough President
Brad Hoylman, Chair, CB #2, Manhattan
Bob Gormley, District Manager, CB #2, Manhattan
David Gruber, Chair, Business and Institutions Committee, CB #2, Manhattan
Arthur Kriemelman, president, SoHo Alliance
Robert Riccobono, president, 150 Greene Street Corp.
Sean Sweeney, Director
SoHo Alliance