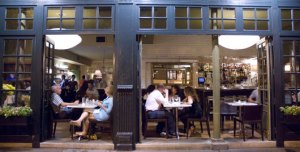 When the owners of the restaurant Provence, which had been a Soho fixture for over 20 years, changed its name to Hundred Acres, I wondered if they were being sardonic. A century ago this area was known as Hell's Hundred Acres because the wooden floors of its factories and warehouses kept catching fire. Today, many longtime residents feel that Soho is worthy of the name once again, but for a different reason: crowds.
When the tourists and suburban shoppers aren't in Prada or Louis Vuitton, they're on the street buying T-shirts, jewelry, film scripts, designer handbag knockoffs and, since they're in Soho, "art." Leaning against the black Hummer that's parked outside my front door each day is a display of huge spattered canvases in monolithic colors (the Kate Moss series, the Brooklyn Bridge series) manned by guys in baggy jeans.
How's business? I ask.
"Great!"
So, when Provence reopened last May as an American restaurant, it seemed that another vestige of the old Soho had been lost. In more than two decades of existence, Provence had provided a romantic setting for many a date and marriage proposal. I even had my wedding dinner there. But two years ago it was taken over by Marc Meyer and Vicki Freeman, the owners of Cookshop and Five Points (the latter named for the notorious mid-19th-century slum that is now Foley Square). They revamped the décor (without sacrificing the old restaurant's romantic charm) and they reinvigorated the French menu. I liked the new incarnation at first, but the food was inconsistent.
Now they've turned Provence into a genuinely American restaurant where the theme is—what else?—the farm.
Instead of escargots and bouillabaisse, there are fried green tomatoes with paprika aioli, and buttery steamed littleneck clams seasoned with chili and oregano. Instead of hanger steak, there's a hamburger made from grass-fed beef topped with a sharp Amish cheddar and accompanied by french fries and a Vidalia onion aioli. It's first rate. And at lunch one day, two of us dined on crunchy fried soft-shell crabs with succotash laced with fresh corn and fava beans from the greenmarket.
Simple food. And much of the time, the kitchen gets it right (the prices are right, too, with nothing over $24).
Hundred Acres is on a mercifully quiet block between Prince and Houston. The entrance has been moved to a better spot, and communal tables have been installed, so the place is more casual and accessible to walk-ins (a.k.a. those shopping-bag-toting tourists).
Provence's signature blue and yellow colors have been abandoned in favor of perfectly nice cream walls and dark wood. Gone are the mirrors and the Pierre Deux striped silk banquettes. The middle room is hung with gorgeous blown-up photographs of an old Pennsylvania farmhouse taken by Christopher Hirsheimer, who co-designed the restaurant with Melissa Hamilton. The covered garden in the back now feels like a greenhouse, with potted plants instead of elaborate flower arrangements. You half expect to see tomatoes on the vine.
The casual sensibility extends to the kitchen, which is run by Meyer with Joel Hough, chef de cuisine of Cookshop. Their rustic American menu, which has around 15 dishes, changes daily, based on what's available in the market. The food is unpretentious and straightforward, and it's served by a friendly, affable staff.
One dish I'd go back for is a tone-perfect salad of cucumber and delfino cilantro (a herb with fernlike leaves) tossed in a cumin-lime dressing and laced with crispy nuggets of bacon. You can also begin with beguiling open-face "tea" sandwiches made with buttered multigrain bread covered with thin slices of tongue and pickled ramps. A trio of toasts served on a wooden board are variously topped with smoked fish, chicken livers with pickled beets, and a delicate mousselike purée of favas.
The food may be simple, but the dishes are well conceived. Pollock (a white fish that in England is known as poor man's cod) is served with a fines herbes butter and a generous helping of English peas. It was beautifully cooked. The grilled bluefish, which I only like when it's really fresh, was also terrific, garnished with a salad of raw carrots and cucumber with lime.
Plates get interesting little touches, such as a lamb duet—roast leg and a chop—served with grilled turnips, sugar snap peas and pickled cherries. Rabbit, accompanied by German fingerling potato salad, is wrapped in bacon, which keeps it from drying out.
The desserts are mixed. A crostade of peaches turned out to be a soggy strudel filled with tasteless white peaches. The cherry shortcake was pleasant, although cold from the refrigerator. But I loved the big wedge of chocolate cake made with a feather-light sponge.
The restaurant's major shortcoming—a distressingly common one these days—is the noise level. Forget the romance of Provence. The front room was always loud, but now it's deafening thanks to the subway tiles on the walls.
One night two of us were seated at a table by the french doors, which were open onto the tree-lined street. The rain was coming down in buckets. No, don't close the doors! Our legs were getting spattered but we didn't care. At least we could hear each other.
mhodgson@observer.com