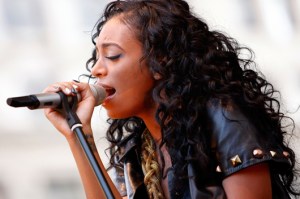 Solange Knowles, like so many young people today, is an avid blogger! Recently, to accompany her posting of a song titled "F#@k The Industry" (scandalous!), Ms. Knowles wrote the following:
"Unfortunately I'm in an industry where diversity is not celebrated the way it should be. When some people see and hear something different it feels foreign to them and they don't like that. Everyone has a choice of what they like and that's a beautiful thing!!!"
It sure is, Ms. Knowles, so what is it that your song is so angry about?
"Record labels, managers, publicist, journalist, media ect [sic]… have a tendency to see something work and try to reciprocate that with another artist thinking that's what makes success. To me what makes success is letting people be truly who they are."
Okay! That's the craziest thing, too, because that theory about the industry's sameness and the beauty of individuality reads almost exactly like every piece of marketing and promotion surrounding your new major label (Geffen Records through Music World Entertainment) album, out today. I guess those industry jerks realized their mistake just in time to write those press releases. Phew!
That new album, Sol-AngeL and the Hadley St. Dreams, provides a terrific example of what a wounded industry struggling to redefine itself will sell as its attempt at "diversity."
Thanks to a cavalcade of top-tier producers and collaborators, Ms. Knowles is, at every turn, accompanied by '60s-inspired musical backing with great big dancey hooks (think the Supremes meets Ciara). Nothing says diversity like having the Neptunes produce your album, along with Mark Ronson, Cee-Lo Green, and other similarly established hitmakers. Listeners, it is presumed, will assume such talents donated their services for free, on account of Ms. Knowles's talent and quirky charm. Not really! These producers are incredibly expensive!
But not everything in Ms. Knowles's career is so easy. For one thing, she is always being asked about her famous sister. Oh, sorry to leave out that detail. Her sister is named Beyonce. She is one of the most famous people who exist. But wouldn't you know it; some people (journalists!) are always comparing Ms. Knowles to her sister just because they are both pop singers. What a bore!
If you take a look it's clear there are plenty of differences. Beyonce's songs and behavior have always hewn to a rather demure sensibility, whereas Solange is a bit of a wild one. She was married at 17, had a child a year later, divorced two years after that and is known to be outspoken, wacky, and irreverent. So she's been through some things and she speaks her mind. Plus her music takes its cues from classic soul and even from contemporary electronic music whereas her sister has stuck to more traditional R&B forms. Also, Solange's voice, presence, and charm, when you compare them to Beyonce's, suck.
It is also worth noting that Sol-Angel and the Hadley St. Dreams, is actually Ms. Knowles's sophomore album. Her debut, the stupidly-named "Solo Star" was released in 2003. Largely the result of her father's attempts at building a family empire, the album was a busy blast of slick, unimaginative, star-produced R&B beats (what do you know, the Neptunes!) with the reedy-voiced 16-year-old struggling to be heard. Clearly this is the stuff Ms. Knowles is reacting so strongly against when she speaks of her newfound identity on the new album thusly:
Get me get me out of this box
I feel so claustrophobic in here
Leave your labels, leave with no vision
Hear my voice and feel with your ears.

In fact, Ms. Knowles can't stop talking about her identity. The album opener has her intoning over a deep-bass-led bit of space funk, "I'm not her / And never will be… I'm no sister / I'm just my god given name." All right already, Ms. Knowles! Show, don't tell!
Follow-ups like "T.O.N.Y.," "Dancing In the Dark" and "Would've Been the One" actually show Ms. Knowles finding her stride, getting comfortable with her limited range amid plenty of peppy horns, jazzy guitar lines, and other Bacharachia. "Sandcastle Disco" and debut single "I Decided" (which has been doing quite well on the Billboard charts) start the descent, with cloying attempts at kookiness and more mission statements about being "different." Moany, wilted "Valentine's Day" feels like a Jill Scott castoff. "6-O'Clock Blues" the Ronson number, is blah, and her Marvin Gaye honoring "Ode to Marvin" is cringe worthy:
Don't let me fall victim to this human nature
I know the way it is don't mean that's how its suppose to be
Oh, I wonder where this broken place is going to take us
and what's the Way. I want to know.
Near the end a couple of songs make things a bit better. "Cosmic Journey," with guest Bilal, starts over woozy, throbbing synths, and ends up a seductive slow jam, by not testing Ms. Knowles's range, and placing her in an atmosphere rather than expecting her to summon one. "This Bird" makes use of a beat by Scottish electronic duo Boards of Canada, a note of actual cool on an album mainly populated by over familiarity, and the druggy, burbling undercurrent its whining overtones, and it sandpaper shuffle of the beat provide another great accompaniment for Ms. Knowles at her mellowest.
On the whole, the album isn't truly bad, just a kind of warmed over attempt to capitalize on the success of retro-soul acts like Amy Winehouse, Duffy, and Gnarls Barkley. Aside from a few very cute moments and obviously some good intentions, the album is precisely the kind of sound-alike crap the labels love to serve forth until consumers stop buying.
Another release this week, Brooklyn band Cordero's "De Donde Eres," ("Where Are You From") exemplifies the kind of true diversity that exists outside of a system that puts forth Solange Knowles as the symbol of wacky outsiderness. The band is nobody's little sister, and Pharrell didn't bless the album with even one production, but all the same the album blazes and crackles with life.
Lead singer Ani Cordero founded the bilingual band in 1999 in Tucson, Arizona, initially playing with members of local, likeminded bands like Calexico and Giant Sand. After a move to New York, she recruited new collaborators, playing with members Rock*A*Teens (Ani's husband, Chris Verene), Antibalas Afrobeat Orchestra, Interpol, and Sparklehorse. The sound blends traditional Latin music (Cordero herself is Puerto Rican, though Mexican and Spanish influences can he heard) with indie rock, relying on a basic rock setup with plenty of horn and keyboard accents. On previous efforts the band played with harsher rock sounds, but here they have found a mellower spirit, with songs that flow gently and lyrics that look inward.
"Guardasecretos" explores Cordero's inner emotional life, while opener "Quique" is a joyous dance number, "Ruleta Rusa" ("Russian Roulette") ponders ecological disaster and has Cordera singing to the earth like a lover: "You don't know how sorry I am." "La Yegua" ("The Mare") carries through a metaphor for female independence:
The mare trots along with the master on her back
The master is so proud of his beautiful animal
He feels so powerful, that he has all the control
The master doesn't know that in her mind the mare is rehearsing for the day she will throw him.

The translation doesn't quite approximate Cordera's lilting, pretty Spanish, and the music itself embodies everything from Wilco's laidback Americana to Os Mutantes Brazilian psych swagger.
It's not mainstream pop by any stretch, and doesn't shoot for the charts, but it's as diverse as sounds get in the often-ghettoized world of indie. As the majors continue to collapse, and terms like indie cease to stand for absolute marginality, one hopes that the myopia Ms. Knowles rails against will give way to true diversity of style and creativity. In an idealized version of that universe, there'd even be room for Solange.