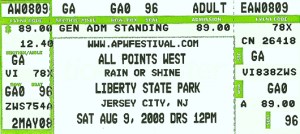 Maybe you're thinking of checking out All Points West this weekend, the inaugural East Coast version of the Coachella Music Festival that starts today and runs through Sunday in a giant, grassy park on the Hudson River waterfront. Sounds pretty good, right? Summer's drawing to a close, so what could be better than some outdoor revelry and music under the sun to make the most of what's left of it? And my, what a lineup of super hip indie bands! Radiohead, Cat Power, Grizzly Bear, The Go! Team, Animal Collective, Chromeo, Metric, Girl Talk, CSS, The Roots. It's like a year's worth of show reviews on Brooklyn Vegan all crammed into one.
But then you realize that in order to attend All Points West, you'll have to—gasp!—go to New Jersey. Yes, the festival is being held at Liberty State Park in Jersey City (the same park where Radiohead played almost exactly seven years ago with the twin towers in the background, just weeks before they were destroyed on 9/11).
We know—for many New Yorkers, that stairway leading down to the PATH train can seem like the descent into hell, and the Hudson River may as well be the Pacific Ocean. But don't worry, it's really not so bad. Jersey City is actually an awesome place. (This reporter happens to live there.)
And contrary to popular belief, the commute to Jersey City does not in fact take "a million hours." Once you catch the PATH train at the World Trade Center, you'll be there in about five minutes. (On the weekends, save late at night, you probably won't have to wait more than 10 or 15 minutes for a train.) Get off at the first stop, Exchange Place, and you can transfer to the Light Rail, which will take you directly to the festival site. (It wouldn't even take you that long to walk there if you're up for a bit of exercise.) There's ferry service to and from the festival grounds all day and night from Pier 11 in Manhattan starting at noon, but at a ludicrously priced $30 round trip each day; the train is probably your best bet.
For more information, there's some coverage today in The New York Sun and The New York Times. The full lineup with set times can be found here.