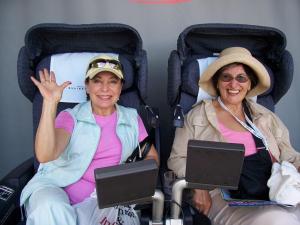 Continental Airlines, an integral player in an industry flying high on low fuel prices and offering better service at lower cost every day, has set up two chairs on the South Plaza which simulate its "BusinessFirst Experience." You can sign up for a "Boarding Pass," enabling you to sit in the seats for half an hour, watch any of the matches on little screens, and eat complimentary cheese.
Linda Pistoll, who is 63 (or, as she sportingly put it, "39 plus tax"), and Shirley Malitz, 67, were taking in the scene. Linda said, "The chairs are very comfortable — I feel I'm in first class with a nice little television."
Asked if they planned to stay all day, Shirley said, "Looks that way," but Linda corrected her: "We're only allowed to stay for a little while."
I left as Linda and Shirley received their cheese plates.