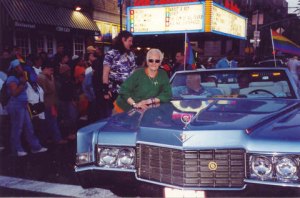 Gay-rights activist Storme DeLarverie — who famously punched a cop during the 1969 Stonewall Rebellion — will be honored tonight during an exhibit of artworks at the famously arty Chelsea Hotel, where Ms. DeLarverie also resides.
"The Stonewall Veterans Association is bringing the blue Cadillac for Storme," said event organizer and abstract painter Susan Olmetti, referring to the convertible Ms. DeLarverie often commandeers for the city's annual Gay Pride Parade.
The event, which begins at 6 p.m. at the famous hotel, located at 222 W. 23rd St., will also feature live portraiture by noted artist Antony Zito.
Full details are as follows:
MEDIA AVAILABLE: Aug. 21: Live Painting Portraiture By Zito Meets Whimsical Art Abstraction By Susan Olmetti At The Chelsea
From 6:00 p.m. – 9:00 p.m., Birth of a Primordial Breath will be accompanied live by Zito's signature 7-minute watercolor portrait painting
Media Advisory
NEW YORK/EWORLDWIRE/Aug. 6, 2008 — From Antony Zito's portrait painting on materials found on New York city streets to intricate abstractions painted by Susan Olmetti while perched on city sidewalks, art enthusiasts' eyes will behold a feast in the Grand Ballroom of the Chelsea Hotel (222 west 23rd Street, NY NY 10011) in a single presentation of never-before-seen paintings by Zito and Olmetti.
Among the pieces, Zito captured notable gay rights activist Storme DeLarverie impromptu on the balcony of the Chelsea Hotel one recent July evening (acrylic on canvas 24" x 36"). "King" Storme DeLarverie, born on Christmas Eve (December 24), 1920 (the year that women won the right to vote) will have a special tribute to honor her, a leader who has regularly led the annual procession of the New York City Gay Pride Parade. DeLarverie's persona may best known for her part in the Jewel Box Revue, a popular drag performance group which toured the U.S. during the '50s and '60s, in which DeLarverie was the only male impersonator in the troupe of 24 entertainers.
During the three-hour soiree, Zito will apply his artful mastery to paint his critically acclaimed 7-Minute Watercolor Portraits – a signature quick-draw style, of anyone who is willing. Portraits painted at the event will be available for sale that evening.
Recognition, Contributions and Contributors
. Sam Bassett.
Artist, filmmaker and celebrity photographer Bassett's recorded journey to unbury the hidden talent of friend, artist and neighbor Bettina Bashyi captured the attention of the New York Times among others. Bassett has contributed a photograph of Storme for display.
. Lisa Ackerman, Photographer
Chelsea Hotel resident Ackerman is best recognized for her talent and work photographing New York City venues and people – including celebrities.
. Purple Beverage Company
Adding power to the punch, refreshments for the evening's events are tenedered by Purple Beverage Company (http://www.drinkpurple.com/the_story_of_purple.htm).
About Susan Olmetti (http://www.susanolmetti.com)
From features in international newspapers such as Canada's Globe and Mail and magazines such as Today's Chicago Woman, Olmetti has attracted attention to her work, described as having a sophisticated and intricate feel. Olmetti's focus on nudes has been featured in a recent book publication by Fletcher Cowan and Holly Hay in the U.K. entitled, "When Fletcher and Hay Met …" which presents a mixture of illustrations, photography, personal notes and informal interviews.
Olmetti has previously exhibited in The Chelsea Hotel and in galleries throughout Chicago and New York including the Thomas Gathman Gallery in Chicago, and The Illinois Holocaust Museum in Evanston, Ill.
A part-time Chelsea resident, Olmetti's bright and vibrant canvases emit a frenetic energy as viewers' eyes traverse the obsessive and whimsically interwoven honeycomb of color and form. Speaking with the artist while immersed in this chaotic universe of paint reveals the artist's complicated struggle with bi-polar disorder, the social and economic obstacles of having an eighth-grade education, and how art became her healing tool.
About Antony Zito (http://www.zitogallery.com)
The New York Post has called Zito's portrait paintings "sensual."
Zito's renderings of people on recycled materials other than canvas have prompted The Village Voice to refer to him as "a master of the found object."
NY Arts Magazine has said, "Zito is able to use his substantial skill as a painter to create a portrait that borders on a sublime reflection of the sitter's being."
Portraits painted by Zito from photos and live sittings exude a particular power and energy that give them the true breath of life. An ardent resident of New York City's Lower East Side, his paintings have been seen in Milk Studios, The National Arts Club, and The American Museum of Natural History, to name a few in New York City, The Sundance Film Festival in Park City, Utah, as well as in La Luz de Jesus Gallery in Los Angeles, and in museums and galleries in France, Austria, London and Tokyo.
In the summer of 2007, Zito set his Portrait Painting Marathon, painting over 100 watercolor portraits in a round-the-clock, 40-hour stretch.