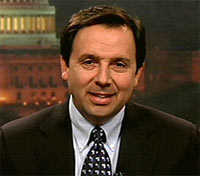 Ron Suskind came under immediate fire on Tuesday when his new book, The Way of the World, hit bookstores. One of the book's revelations—that the Bush administration ordered the C.I.A. to forge a letter from the head of Iraq intelligence to Saddam Hussein to support the notion of a link between Iraq and 9/11—was reported in The Politico and elsewhere.
Deputy White House Press Secretary Tony Fratto struck back as soon as The Politico reported the scoop on Tuesday night, telling reporter Mike Allen that the "allegation that the White House directed anyone to forge a document from Habbush to Saddam is just absurd."
Former C.I.A. Director George Tenet also chimed in, saying in a release that there was "no such order from the White House to me nor, to the best of my knowledge, was anyone from C.I.A. ever involved in any such effort."
Most troubling for Mr. Suskind, though, was that one of his on-the-record sources on the forged letter, former C.I.A. man Robert Richer, published a statement saying he "never received direction from George Tenet or anyone else in my chain of command to fabricate a document from Habbash as outlined in Mr Suskind's book."
In response, Mr. Suskind has posted on his Web site a transcript of a conversation he had with Mr. Richer in June, noting that while posting the transcript was "contrary to my practice across 25 years as a journalist … the issues, in this matter, are simply too important to stand as discredited in any way."
In an interview on MSNBC today, Mr. Suskind said he was in touch with Mr. Richer, and his other source, former C.I.A. agent John Maguire, by e-mail and was trying to embolden them to hold their ground.
"The government has come down on them," Mr. Suskind said. "You can just imagine what they're going through. I'm trying to support them. We're sending emails back and forth saying, 'Hey, stick it out.'"
The MSNBC video has been posted on Rawstory.com.