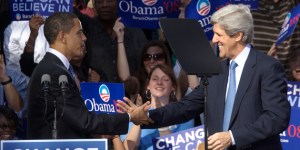 I alluded to this in today's Morning Read, but if common sense hasn't already killed them, maybe we can use this tidbit from the Associated Press to put an end to the absurd John Kerry-for-VP rumors that proliferated last Friday and over the weekend.
Democrat Barack Obama met yesterday with Texas oil baron and longtime conservative activist T. Boone Pickens to discuss strategies for developing alternative energy.
The presidential hopeful praised Pickens, a native of Oklahoma, as a "legendary entrepreneur" and deflected a question about the billionaire's role in helping to fund a television ad campaign that undermined John F. Kerry, the 2004 Democratic nominee.
"You know, he's got a longer track record than that," Obama told reporters when asked about Pickens's association with the ads by a group called Swift Boat Veterans for Truth.
Now, if Obama were really about to tap as his running mate a man who still seethes with resentment over the Swift Boat attacks that Pickens bankrolled (and who is still engaged in a very public argument with an unapologetic Pickens about the subject), then why would he be meeting with Pickens and, essentially, shrugging off Kerry's gripes? There are about 62,000 reasons why Obama will not even consider putting Kerry on the ticket, but the fact that he's interested in courting T. Boone Pickens – and, by extension, the voters who share Pickens' interpretation of Kerry's Swift boat history – by itself disqualifies Kerry, whose presence on the ticket would reopen the divisions of 2004 that Obama is clearly and correctly interested in healing.   
That Kerry's name has even entered into serious media discussion is by itself a wonder.
As best I can tell, the Kerry chatter took off last Tuesday night when Howard Wolfson, fresh off making his bizarre and utterly baseless claim that Hillary Clinton would have won the Iowa caucuses without John Edwards in the race, said on television that he'd heard rumors about Kerry being considered. A few days later, a Boston newsman reported that "some political insiders" had told him that "it could happen." Matt Drudge took that scoop, plastered it on his Web site, and a weekend of Kerry buzz ensued – and now Kerry's VP stock is trading at a ridiculous 9.4 on Intrade.
I doubt old T. Boone would want to go into business with anyone who'd throw money at that proposition.