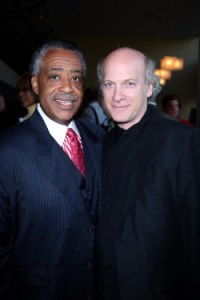 On Tuesday evening, Time Warner chairman Richard Parsons hosted the premiere of The Blacklist: Vol. 1, an HBO film airing August 25 that explores being black and American in the 21st century through profiles of 22 influential African-Americans, at the Time Warner Center. (Corporate synergy in action!)
Director and portrait photographer Timothy Greenfield-Sanders said he developed the idea for the film with former New York Times film critic Elvis Mitchell at a restaurant in the East Village. "We saw it originally as a film, as a book, and as an exhibition of portraits," said Mr. Greenfield-Sanders. "And it's all of those things now! We've been very fortunate, but I think it's an idea that was dying to happen."
The film's release is indeed timed to a show organized by Houston's Museum of Fine Arts and a coffee-table tome to be published next month. A selection of Greenfield-Saunders' snaps of Sean Combs, Toni Morrison, Colin Powell, Suzan-Lori Parks, and Chris Rock, all of whom appear in the documentary, dotted the perimeter of window-walled room. At 6:30, Alan Cumming, Bill T. Jones, Gayle King, and Kareem Abdul-Jabaar were whisked into the circulating crowd.
After the Daily Transom cornered Mr. Mitchell, he admitted to winging his interviews with each of The Blacklist's luminaries as a way of making their stories as personal as possible. "What I wanted to do was get these people to talk in a way they hadn't talked before," he said, blinking behind his quirky steel-framed specs.
"On the other hand, you have to ask that question, 'So what's it like to be black in America?'" he added. "Because at this point, I probably know. And they knew, too. This is the kind of communication that came as a result of the film, and also because you're still finding it as you're talking to each person."
The Daily Transom chose not to ask Mr. Mitchell about a criminal complaint filed against him recently that alleged he was trying to smuggle $12,000 in cash back to his home in Detroit from Canada.
Faye Wattleton, co-founder and president for the Center for the Advancement of Women (also: in 1978, youngest Planned Parenthood president ever!), was also in attendance in a tailored white suit. Young people, Ms. Wattleton said, can be easily seduced.
"Sometimes they see the glitter and the exposure, and people think, 'What a glamorous life!'" Wattleton said. "But then, each of us has had a struggle. And those have been day-to-day and difficult struggles."
Just then, Mitchell bolted over to Wattleton and nearly knocked the Daily Transom over as he swept her into his arms and kissed her cheek. "Pardon me! Do you know how great you are in this movie? You look fantastic!"
Once the tiny tables covered in grass-colored cloth disappeared under constellations of half-empty wine glasses, the party flowed into the screening room. Rev. Al Sharpton stopped to pose for pictures flanked by Wattleton and Greenfield-Saunders. "This is going wonderfully," Sharpton said in a low voice to the director, who nodded seriously. Moments later, the latter blushed as he was re-introduced by Mitchell, just before The Blacklist rolled, as "a huge force in documentary film-but I like to call him White Chocolate Thunder!"