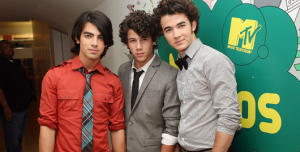 The Jonas Brothers don't occupy their prominent position in pop by accident, and they don't owe their success to critics, music blogs, Imeem, Pandora, iTunes, or even a savvy Volkswagen commercial. New media be damned, they owe everything to the Disney monolith, a big old record label, and legion after legion of screaming girls.
With the release of A Little Bit Longer this week, the three brothers from Wyckoff, N.J. (just over the G.W.B.) will prove that the charts can still be dominated using the big-business pop-music model everyone keeps saying is dead, dead, dead.
Disney has been making a mint off the lucrative tween demographic for the better part of the last decade, with High School Musical, Miley Cyrus, and now the Jonas Brothers trotting out a never-ending supply of records (on the company's Hollywood imprint), television shows (on its network), and tours (the most lucrative product of the music industry).
For the Jonas Brothers this has meant that in addition to recording the new album, they had to do a reality show (last year's Jonas Brothers: Living the Dream), a TV movie, Camp Rock, and a very long tour. Once the tour is done, they'll start shooting J.O.N.A.S., a spy-themed TV series. If that isn't enough, the band also has hours of casual footage from backstage, the tour bus, at home, hanging with fans, etc. Prepare to be bored stiff.
On the actual compact discs you will find photo galleries, lyrics, and more, plus one of three bonus tracks: one each for Wal-Mart, Target, and Best Buy. As with all things, Target wins the day, its bonus track being a cover of the Beatles "Hello, Goodbye." And of course Hollywood Records wins, as obsessive teen completists may be tempted into buying all three versions for that much more fan cred and Jonas-abilia.
To the tween fan experiencing the first dizzy exposure to and worship of celebrity and the pop narcotic, this constant supply of media means that fandom never need take a break, and for Disney it means prolonging the inevitable shift young listeners make to more potent stuff.
To illustrate the force of Disney, consider that Columbia records couldn't squeeze sales topping 100,000 copies of the Jonas Brothers' debut album back in 2006. Once on the company's Hollywood Records imprint and ensconced in the Disney machine, the band's next album sold a million copies in its first four months, and 400,000 more since. More recently, the "Camp Rock" soundtrack release coincided with big adult market albums from Coldplay and Lil Wayne, and still managed to move 562,000 copies in its first week.
While the album is both astonishingly over-polished and squarely directed at the tween-pop audience, there are some grown-up tastes too. Further, they wrote eight out of the 12 tracks (and co-wrote the other four), where on previous outings they relied far more on co-writers like Adam Schlesinger of Fountains of Wayne and Desmond Child, songwriter for Aerosmith and Bon Jovi. (More 80's connections? the Go-Go's Gina Schock pens much of Miley Cyrus' output; Camp Rock was co-written by MTV veteran Downtown Julie Brown.) All three trade instrumental duties, though Kevin, 20, mainly mans guitar. Nick, 15, is the youngest but also the creative center of the band, the head composer. Joe, 18, is the cute one (lately sporting a sweet 'stache). As they grow older, they exhibit less hangdog wackiness, with a tendency toward hook-driven power-pop. A favored analog is Hanson, but the Jonas Brothers are less annoying, more convincingly musical, and more attuned to rock excitement.
Take the opening cut, "BB Good," which leads off from a crunchy riff and descending, growled lines, its super hook underpinned by Cars-esque keyboards. The spoken word-hand clap-organ breakdown feels poised to let the song be actually great, until a compressed, hideous guitar solo and more, lamer spoken junk blows it. Now this is worth noting, since traditionally "guitar solo" is synonymous with "righteous, dude!" On a few of these tracks, the solos are the opposite of righteous, dude. In other words, the Brothers still have a long way to go. The following track, "Burnin' Up," is more R&B-tinged rock, with dashes of funk (think Maroon 5, though the boys say it's their stab at Prince), and even a few bars of rapping courtesy of the band's security guard Big Rob (who used to work for Britney).
"Shelf" and "One Man Show" display shades of classic, simple power pop, but both find the Brothers playing a bit too self-serious where they would actually benefit from a little raw naiveté (damn you emo!). Shuffling "Lovebug," with its lilting acoustic plucking, great harmonies, and undeniably simple-genius lyrical moves, is one of the more sedate songs here (apart from another inexplicable, cheesy guitar solo mid-track), but also one of the best (though all the background chatter about pizza could really be ditched).
The remainder of the album is more spotty: Ska-tinged "Tonight" has a nice synth-assisted chorus tailor-made for fist-pumping, while "Video Girl" is a cheeky, silly slice-of-life-on-tour rant against fame-seeking phonies: "They all want the money/They're all insane." It's no "Turn The Page," but it's nice to see the band latching onto some stalwart rock clichés (can a song about a fictional star's dramatic rise and tragic fall be far behind?). The title track is the album's message song (and oddly the closing number), about Nick's experience suffering from Type I Diabetes.
The overall sound is the usual MP3-ready, overcompressed everything: splashy cymbals, pulsing low end. Producer John Fields (Pink, Rooney, Andrew WK [!]) is to thank-slash-blame, but surely he was just following the bidding of co-producer Kevin Jonas Sr., the boys' father, reportedly a scholar of teen pop acts of the 90s (and their slick as hell producers). Through all those layers of guitars, keys, and synths it can be hard to pick out the boys reedy vocals (part of the reason mostly restrained "Lovebug" is so refreshing).
Kevin Sr. is also the reason the boys often get deemed "Christian rock." A pastor, he had the boys singing spiritual music at a very early age, and he still leads them in pre-show prayers. Yet he's the first to admit they now play purely secular pop. Much is made of the purity rings the boys wear (not to mention the at-times oppressive decency in their music and behavior), but their music is hardly spiritually infused.
But in the moments on A Little Bit Longer where the band really cooks, in the boys' recent predilection for tight, mod suits, and even in Joe's sly mustache lie the seeds of a far more intriguing iteration of the Jonas Brothers, where the force of mass popularity is wielded into something more like mass potential, and power pop exhibits power of another kind. It will be interesting to see if they can pull it off.