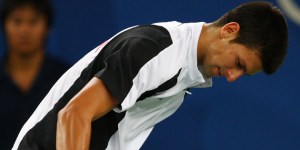 At the USTA's official pre-US Open party on the rooftop of the Empire Hotel on W. 63rd Street, I overheard Novak Djokovic complain to friends that he's been suffering from some sort of stomach problem the last few days. He said that he was praying he'd be O.K. physically for the tournament.
A stomach problem is hardly a concern for a 21-year-old athlete (well, unless you're Richard Gasquet), but when you consider how Novak has a tendency to play–absurdly long, grueling 4-hour matches–it could be a factor early in the tournament.
In a Saturday press conference with the media, he didn't bring it up, but vaguely alluded to it by saying, "Physically I still need to work on some things hopefully till, you know, Tuesday, Wednesday, I can be fit."