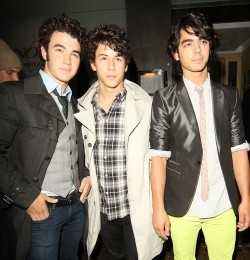 The Daily Transom had never experienced Jonas Brothers mania in its purest form until we journeyed to their concert at the Ross School in East Hampton on Saturday, August 9. The Jonas Brothers are a Disney-promoted band of three brothers from Wyckoff, New Jersey–youngest brother Nick, who is 15, used to date Miley Cyrus and is now dating Disney star Selena Gomez (to Ms. Cyrus's chagrin, it is claimed); they tour with another Disney star named Demi Lovato; they are cute, but they are also Evangelical Christians and wear Promise Rings, so parents do not have to worry that their famously tight pants mean they will be talking about scary things like Sex and Drugs. Just rock n' roll, ma'am! To put it in terms that people born before 1995 would understand: They are sort of like a dark-haired Hanson. Remember them?
After a short "red carpet" arrival by celebs including Christy Turlington, Christie Brinkley, Abigail Breslin (publicist Lizzie Grubman informed The Daily Transom that Ms. Breslin was "not doing interviews"; she did, however, look adorable!), and a trio of Lohans–Ali, Dina, and Dakota, aka "Cody."
We caught up with the Lohan clan over pre- and post-concert snacks (thanks, Danny Meyer!). Ali seemed sullen; at 14, she is two years older than her sister Lindsay was when she had her first starring role, in The Parent Trap. (The younger Ms. Lohan is best known these days for her reality show, Living Lohan, in which she halfheartedly attempts not to become Lindsay, but not really.) She didn't say much, but Dina was a bit more talkative. "It's all for a great cause. So my son Dakota and my daughter Ali are here. We have a driver. [The Jonas Brothers] are so good live!" She was happy to learn that the brothers originally called New Jersey their home-"I didn't know they were from the East Coast. I'm from the East Coast!" and equally happy to proclaim that she would "definitely be a gymnast" if she were in the Olympics, because, she said, she used to dance.
Over 600 people (who had paid $1500 each to raise money for Ross) then packed into the gymnasium for the noon concert, which began with Kelly Ripa raffling off two guitars. Despite having performed in Los Angeles on Thursday, at Bryant Park on Friday morning, and at Jones Beach on Friday evening, the Jonas Brothers did not disappoint. In a Tinkerbell-with-clapping way, they survive on the screams of young fans; the louder crowd around us shrieked, the more energized the brothers became. Eventually, one imagines, they disappear in a puff of smoke.
Kevin, Joe, and Nick Jonas sang for a solid hour, rotating through time-tested moves such as jumping up and down rapidly, clapping, waving their arms in the air, and clutching their chests while looking longingly into the distance and singing plaintively to girls who broke their hearts via Instant Messenger. They all play guitar, both acoustic and electric (they have a roadie whose sole job is switching their guitars from the sparkly silver one to the faux Louis Vuitton-print one mid-song), and Joe rocked out several times on the tambourine while Nick also played drums and piano.
And so, as eight-year-olds danced on bleachers the way Gossip Girls dance on banquettes, and Dina Lohan eyed Kelly Ripa's back from five feet away, we found ourselves caught up in Jonas mania. Until, that is, Joe, the lead singer and middle brother, asked "Who's ready to go…" and we thought "Already? Well, it is a good beach day," but then Joe finished with: "to the year 3000." "The Year 3000" being one of their hit songs, and we, apparently, being a bit too old for the Jonas Brothers.